Cut The Rope

GAME INFO
Cut the Rope ™, one of the most successful games on mobile devices now on your PC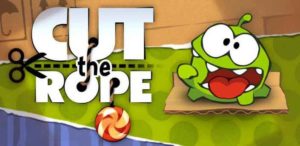 Cut the Rope is one of the most award-winning, addictive and successful games of recent times, with millions of downloads in both the iOS App Store and the Android play market. A success of both sales and critics specialized in video games. In cut the rope prepare to squeeze your brain using the logic and laws of physics because only so you can finish this game, so ... cut the rope. You can play this game for free on your PC, tablet, mobile phone or cellular thanks to HTML5 technology.
One day they knock on your door, the messenger leaves a mysterious package that says "feed with candies", you did not expect any package ... open the box and you find a stranger to be called on nom that ruje of hunger and emits strange sounds. So simple: You must feed with candies to the good of on nom, but not in any way, because those candies hang on strings and you will have to solve complicated challenges to bring the caramel to your mouth. As a pendulum you will have to cut the strings in the right way and at the precise moment. At higher levels you will be able to use aids such as bubbles that make the caramel go up.
Level at level you will also have to collect three stars per level alcanzándolas with the pendulum movement of the caramel tied to the rope, so the challenge is multiplied by 4. The greater the number of stars you will receive more points. In addition the time runs against you, the faster you become the more points bonus you will receive.
Show your skill, control the laws of physics, be smart ... go ahead, feed on nom because he is hungry and only wants candies!
How to play Cut the Rope
Controls
Mouse: Click on left button, slide on a string to cut it.