POPPY PLAYTIME

GAME INFO
POPPY PLAYTIME is the Horror Game of the moment, the most terrifying according to those who have played it… Escape Huggy Wuggy!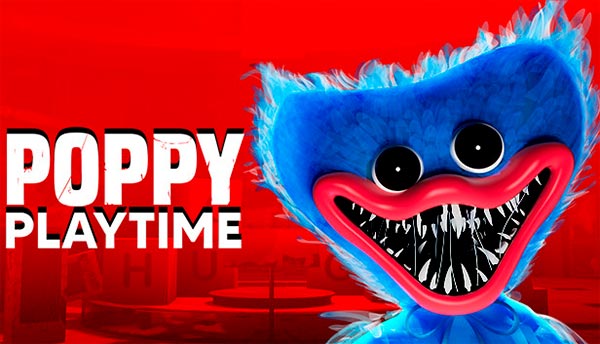 The new phenomenon among horror games is Poppy Playtime, for the scares, mystery and anguish it causes when playing. There are already many streamers all over the world who are talking about this game in thousands of videos.
In our post we will tell you all about this new sensation, how you can play online for free (no download). Get ready to step into the toy factory everyone is talking about and get out alive!… let the nightmare begin!
In this game you will be a former worker of Playtime Co., an old toy factory, but not just any toys: stuffed animals, dolls and high-tech robots.
Years ago, all the technicians and workers in the company disappeared overnight, leaving no trace. The factory shut down its machines and shut down for good… but you're determined to investigate on your own what happened.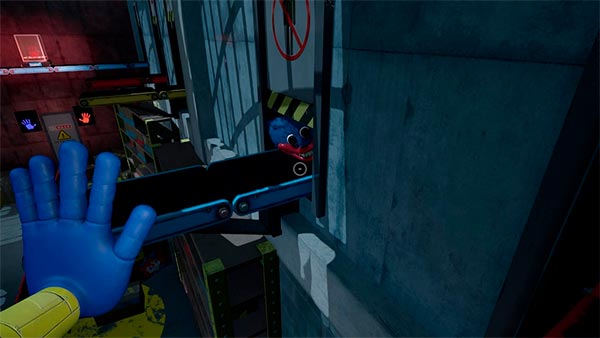 You'll enter the dark factory to search for clues and solve the mystery of the disappearance of hundreds of co-workers. It will not be easy, because the building has long been abandoned and there are thousands of dangers.
But there is also a small problem: there are dolls that seem to have come to life and seek revenge and come after you! especially one, called Huggy Wuggy, which was Playtime Co's biggest bestseller.: hairy, blue, with long arms and legs, plus a mouth full of sharp teeth.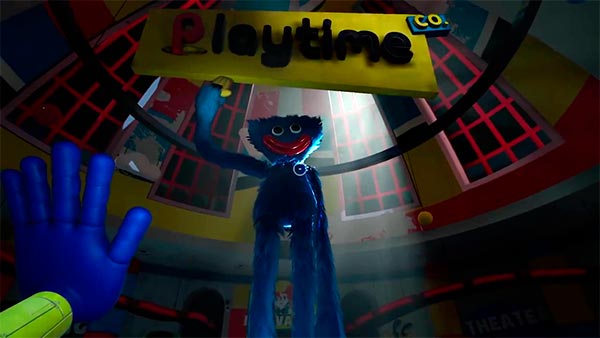 Not all dolls are as sinister as this one, but even some will help you on your way. You must be alert at all times, you will not know what to trust.
Find clues, solve puzzles, interact with objects, use the GrabPack to lift heavy objects, operate remote buttons, connect to electricity and much more.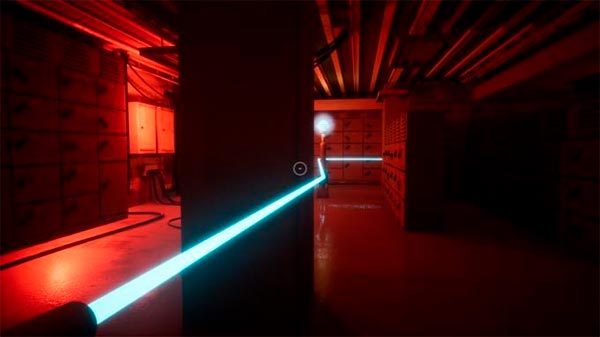 The GrabPack was the star work tool of the former toy factory workers, so make the most of it and learn to master its features because it will help you throughout the game.
It is composed of two hands and long hi-tech cables that allow you to do things at a long distance. Don't make a sound, because Huggy Wuggy's artificial intelligence will have him pick you up and go after you before you know it.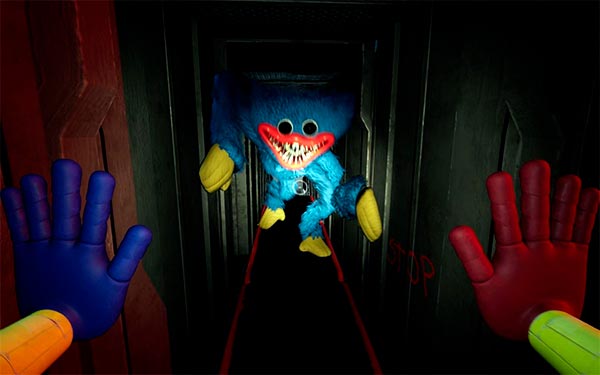 Its creators are planning to release new chapters in the coming weeks (Chapter 2 will be released soon), which is increasing the expectation of millions of players.
With Poppy Playtime we are, without a doubt, facing a new phenomenon in survival horror style games that have had such success in recent years, from Hello Neighbor to the FNAF saga… want to try the game experience everyone is talking about? keep reading.
POPPY PLAYTIME Chapter 1 Original Game Soundtrack
You can listen now and for free the Poppy Playtime Chapter 1 soundtrack on Spotify:
POPPY PLAYTIME Characters (No Spoilers)
Huggy Wuggy
A doll designed to hug children. At the time it was the main toy of Playtime Co., best seller… and now a murderer.
Kissy Missy
The female version of Huggy Wuggy, but this time it was designed to give sweet kisses.
Poppy Playtime
A mysterious doll but with a leading role in this game (and which gives it its name). It was designed as a toy capable of holding conversations with a child.
The Player
The player, it's you. At no time do you see your body or appearance and do not communicate. He's a former employee of Playtime Co. tormented by his past and seeking to solve the mystery of the disappearance of his companions.
Bron
Another of the toys of Playtime Company, shaped like a dinosaur (specifically a Brontosaurus).
Boogie Bot
A small toy robot, designed to dance and teach children to dance.
Cat-Bee
Cat-Bee was mass-produced with the Make-A-Friend machine. It has a very important role in the game, because it will be a doll that you can use as an assistant.
Elliot Ludwig
The founder and CEO of Playtime Co., creator of the Make-A-Friend machines. It appears several times during the game, in old video recordings. He also disappeared along with his employees.
POPPY PLAYTIME All Chapters
Currently, these are the chapters released:
Poppy Playtime Chapter 1: A Tight Squeeze
A former worker at Playtime Co. he receives a mysterious letter with the message "We are still here" and decides to go to the abandoned factory in search of answers.
Poppy Playtime Chapter 2 (Very Soon)
The release of Poppy Playtime Chapter 2 will be in early 2022.
POPPY PLAYTIME Gameplay
Poppy Playtime is a global phenomenon, with thousands of YouTubers from all over the world playing and uncovering the mysteries of the sinister factory. Among them is Jacksepticeye, the streamer with almost 28 million followers on YouTube. Below you can check out their entertaining gameplay / review in his video "Scariest game in years":
How to download and play Online free POPPY PLAYTIME for PC
The game has been released for PC on Steam (Windows) and is not scheduled to be released on other platforms or mobile devices (iOS or Android). At the moment it is paid and, although it is not expensive, there is an alternative to play a free version online without downloading:
Click on the "PLAY NOW" button at the top left of this post.
Wait for me to load the Poppy Playtime link to the Kogama portal.
On their website, click on the "PLAY" button (you do not need to download anything, it is played from the browser).
Wait a few seconds for the game to load.
Enjoy the game!
Technical Requirements
OS: Windows 10 (64bit).
CPU: Intel Core i5.
RAM: 8GB.
Graphics: Nvidia GeForce GTX 1060 or Radeon RX 580.
Available disk space: 10GB.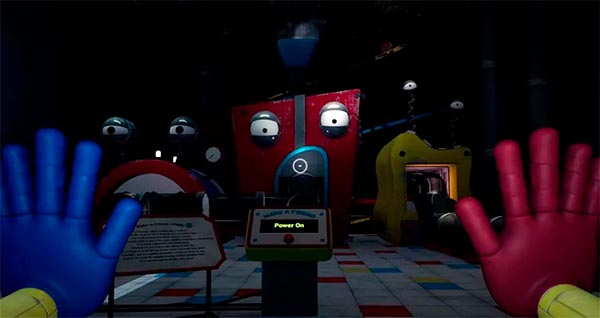 If you liked the game, you will find other Horror Games as sinister as this one in our collection like: Potrick Snap 2, Joyville, Garten of BanBan, Project Playtime, Rainbow Friends Roblox, Fears to Fathom: Norwood Hitchhike, Andy's Apple Farm, Five Nights At Freddy's: Security Breach, Siren Head or Boris and the Dark Survival.
Poppy Playtime es un juego desarrollado de forma independiente por MOB Games, un estudio de St. Louis (Missouri, Estados Unidos). Para más información y noticias sobre el juego, puedes visitar su canal de YouTube o twitter. Puedes comprar la versión oficial en Steam.
Poppy Playtime is a game developed independently by MOB Games, a studio in St. Louis. Louis (Missouri, United States). For more information and news about the game, you can visit its YouTube channel or twitter. You can buy the official version on Steam.