FRIDAY NIGHT FUNKIN

GAME INFO
Friday Night Funkin' is the rhythm and Action Game of the moment… we tell you how to Download or Play Free Online!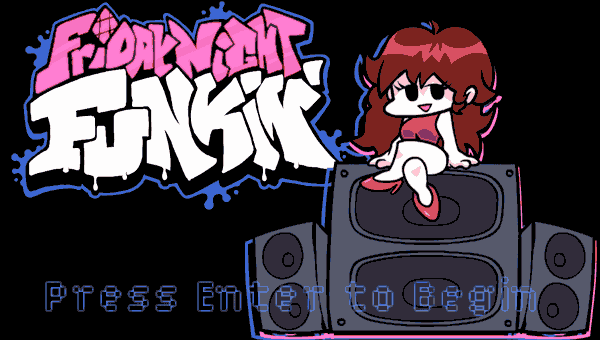 Friday Night Fukin'n (FNF) is one of those wonders that come up from time to time, a game of keeping pace and one of the most original action games of the moment. Remember mythical games like PaRappa The Rapper or Dance Dance Revolution, but it is much more addictive and for you to try it, in this post we are going to tell you all its secrets. In addition, you will discover how it can be download free for PC or even if you want to play it online even from mobile (Android and iPhone)… Read on that we started!
In this game you will have to have a lot of sense of rhythm and your fingers will suffer, completing each challenge over weeks (levels), but let's move on to the action: in this game, the protagonist is Boyfriend, who wants to date Girlfriend, but there is a problem… her father (Daddy Dearest) does not approve of the relationship!
To get her respect and approve of your relationship with the girl of your dreams, you will have to fight, but not with fists but singing or rapping in an unprecedented musical battle.
The rules are simple: the opponent sings in a certain rhythm and you will have to follow it, that simple, but it is not easy (the rhythm will be more and more frantic).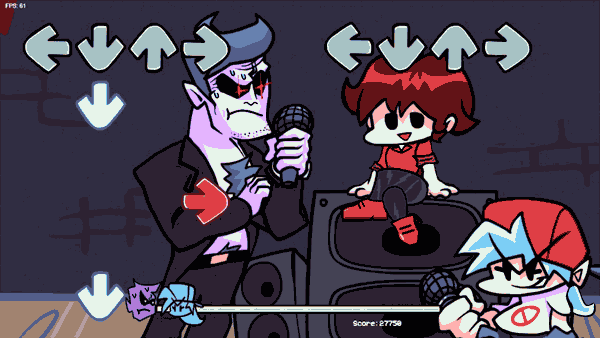 But it's not all singing, because the plot hides very sinister characters and monsters who want to finish you off or eat your girlfriend!
Press at full speed the arrows indicated on the screen (Up, Down, Left or right) to follow the song duel, because if you miss too much the lights will go out… until the game is over and you have to start again!
This game is being quite a phenomenon in twitch.tv and tiktok. For those who have played it, there are weeks that are very difficult to complete, but therein lies its power of addiction… Do you accept the challenge? do you know that you can play Friday Night Funkin for free? it's even free all the music in the game!
Friday Night Funkin (FNF) Characters
The only fixed characters in the game are the protagonist couple, but the rest of the characters appear and rotate each week, as you progress through the story mode:
(Attention: there are some spoilers in the explanation of certain characters)
Boyfriend: the protagonist of the game, wants to date his girlfriend girlfriend, but her parents and her environment do not approve of the relationship.
Girlfriend: the co-star of the game, is Boyfriend's girlfriend. He is one of the few characters who speaks during the game, besides singing.
Daddy Dearest: girlfriend's father and the mom's husband. He does not like Boyfriend anything like son-in-law and is willing to play dirty to finish him off. Years ago he was a rock star.
The Mom: girlfriend's mother and Daddy Dearest's wife. He doesn't approve of his daughter's relationship either. Ex-Pop star, she is always accompanied by her dancers-henchmen.
Pico: a somewhat violent young man, he has been hired by Daddy Dearest to take down Boyfriend (Spoiler: he receives the commission after daddy Dearest's humiliation at the end of Week 1, but Pico recognizes Boyfriend, because they had already matched before and forgives him his life, but challenges him to a rap duel).
Skid y Pump: two little brothers who always go in Halloween costumes. At Girlfriend's house they meet an enigmatic character who instructs them to capture Girlfriend and hand her over.
The Monster: a sinister character with a lemon head who lives hidden in Girlfriend's House and wants her at all costs (to eat her).
Senpai: an elegant and heart-breaking young man, he meets Boyfriend and Girlfriend during Week 6, when they get caught up in a video game called Hating Simulator. Senpai challenges Boyfriend with a rap duel, to win Girlfriend's heart.
Spirit: a soul trapped in the video game Hating Simulator, where he was locked up for a long time because of Daddy Dearest. He was the real Senpai (this one explodes upon being defeated in Week 6). His plan is to take Boyfriend's body, return to the real world and take down Daddy Dearest (who was the one who locked him up).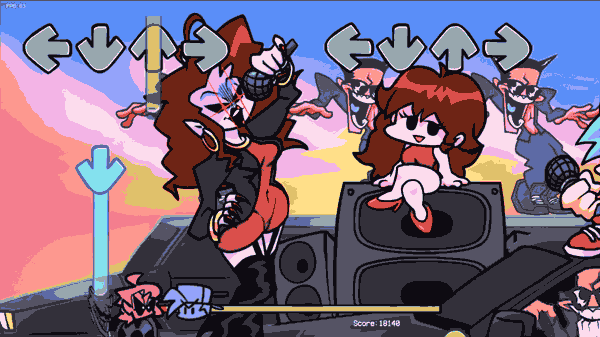 Weeks (levels) of the Game Friday Night Funkin
Week 1
In this first level, Boyfriend finds himself on the Stage and will face Daddy Hearest in a three-song duel (Bopeebo, Fresh and Dadbattle).
Week 2 (Spooky Month)
En el segundo nivel, los hermanos Skid y Pump se enfrentan a Boyfriend para secuestrar a Girlfriend y entregarla a Monster. Las canciones de este nivel son South y Spookeez.
Week 3
In Level 3, Boyfriend confronts Pico's character (hired by Girlfriend's father). The topics of the week are Pico, Blammed and Philly. The action is set in the city of Philadelphia.
Week 4
In the fourth week, the Mom is the opponent of Boyfriend, who will face off in a place called the Limousine. This week's songs are MILF, High and Satin Panties.
Week 5
In Week 5, Boyfriend will face Daddy Hearest, the Mom and Monster at the same time, on the stage of the Mall, with the songs Eggnog, Winter Horrorland and Cocoa.
Week 6
En la última semana de Friday Night Funkin ' Boyfriend se efrenta a Senpai y Spirit En The School, con las canciones Senpai, Thorns y Roses.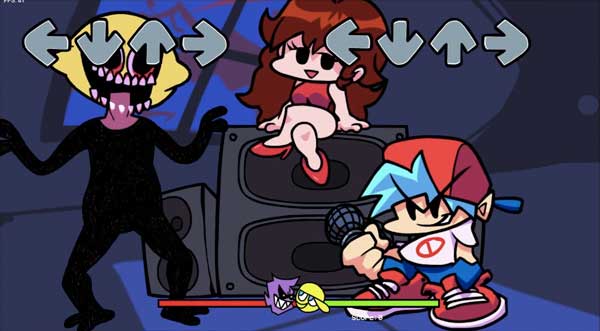 Friday Night Funkin' MODS
The game has been programmed in open source on the GitHub portal and can be obtained for free, so that anyone with programming knowledge can make modifications to Friday Night Funkin.
Thus, several mods of Friday Night Funkin have been emerging in a short time that are having as much success as the original version. Some of the best known mods are:
Friday Night Funkin Mod Among Us
Friday Night Funkin Mod FNAF (Five Nights At Freddy's)
Friday Night Funkin Mod Brawl Stars
Friday Night Funkin Mod B Side
Friday Night Funkin Mod Miku
Friday Night Funkin Gameplay
This game is also having a lot of impact on YouTube, as you can see in the video of Jacksepticeye (with more than 26 million followers on his channel):
How to download free game Friday Night Funkin for PC (or play Online)
The game has been released by its developer independently and completely free on the popular portal itch.io.
If you want to play free Friday Night Funkin it is very easy, just follow these steps:
Click on the "PLAY NOW" button located at the top left of this same post.
Wait for the link to the game page to load in itch.io.
Click the button "Play on itch.io".
You have two options: play online (without downloading, in the browser) or download the game for PC (Windows, Linux) or Mac.
If you download it, choose the file you prefer and follow the installation instructions.
Enjoy the game!
Friday Night Funkin: All Songs and Lyrics
All the music of Friday Night Funkin is the work of Kawai Sprite and can be heard for free on the Bandcamp platform:
Game Controls
WASD / arrow keys: click according to the arrows shown by the opponent.
Enter: pause the game.
+ / - Keys: increase or decrease the volume of the music.
R: leave the game at any time.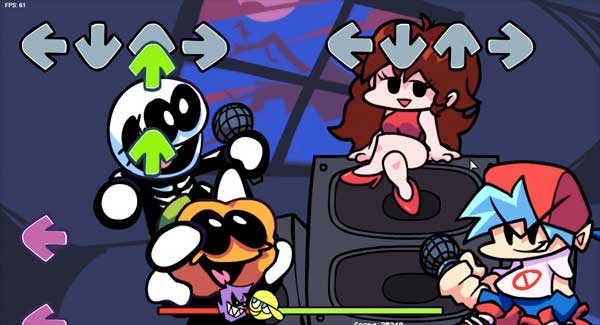 If you liked FNF, you may like other action games and similar Mental Challenge Games from our collection like: Rumbleverse, The Professional Game, PowerWash Simulator, Roblox Squid Game, Pico Park, Knockout City, Fireworks mania, Gartic Phone, Kill It With Fire, Stick Fight, Human Fall Flat, Donut County or Scribble It!.
Friday Night Funkin' has been independently developed on OpenFL and Haxe by Cameron Taylor (known as ninjamuffin99), with the collaboration of graphic artists PhantomArcade3k and evilsk8r and music by kawaisprite.
You can check more information about FNF or the work of its creator on their twitter account.