BALDI'S BASICS

GAME INFO
Baldi's Basics is an educational game in which nothing is what it seems... it's a horror game!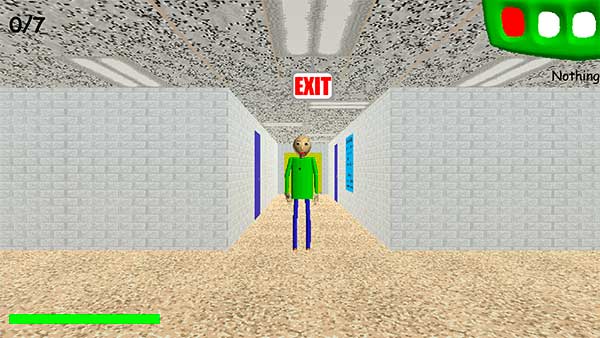 Baldi's Basics is an addictive and disturbing horror game in which you'll confront a Baldi: the bully of the school. Have fun learning math, geography, and number of subjects with this fully interactive game in 3D. There is only one problem: if the failures of the questionnaires, Baldi he'll get angry and don't want to know that will happen to you if you found... are you ready?
(Update June 2020: released the full version of the game, known as Baldi's Basics Plus).
While you're trying to avoid and not to do to anger the bully, you will get the 7 notebooks and escape with them to the school as fast as you can. It will not be easy because Baldi known to many students and will use to harm your progress in the game. Learn the behavior of all the characters to anticipate the AI (artificial intelligence) and make it out alive of this nightmare... Escape!
This game will not leave you indifferent due to the strange but addictive it is. the Baldi's Basics has been created by a programmer, american indie called Micah McGonigal (view twitter). The famous Youtuber Jacksepticeye (nearly 20 million subscribers and one of the most followed in the English-speaking), has made a funny gameplay. You can see below his video "Spanked by Teacher":
How to download Baldi's Basics
The game has been developed independently and launched in the well-known platform for indie video games itch.io. If you want to download free Baldi's Basics continues with these simple steps:
Click "PLAY NOW" located in the top left of this post.
Wait for it to load the official website of the game at Itch.io.
Click "Download Now".
In the next step, you will be asked to indicate an amount as donation. If you do not want to donate anything: Click on the option "No, thanks, go to downloads"
Download the official game.
Follow the screen instructions and... game on!
(alternate Download here)
New Baldi's Unreal Basics in Education and Learning
A fan of the game has made a version developed by the Unreal Engine graphics engine. The programmer, named Obsidious, has released his game to download on the Gamejolt portal (download Baldi's Unreal Basics here).
The famous Markiplier (with more than 21 million followers on his channel) has uploaded this fun gameplay of the game.
Controls
W-A-S-D: move character
Mouse: move camera, open doors and pick things up (click left button), change the selected item (click right mouse button and you spin the wheel)
Shift: run
spacebar: look back
Esc: pause game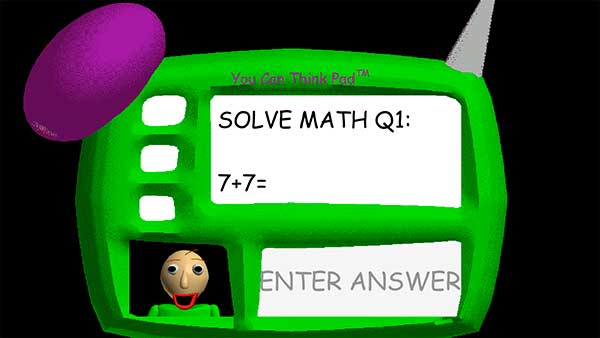 Technical Requirements for playing Baldi's Basics
OS: Windows or Mac
Disk Space: 32 MB
If you liked the game, maybe you are interested in other Terror Games similar as: Chordosis, Granny: Chapter Two (Granny 2), Showdown Bandit Game, Resident Evil 3 Remake Demo, Hello Neighbor 2 (Hello Guest Alpha), Granny (PC Game), Five Nights At Freddy's Simulator, Baldi's Basics Field Trip: Camping or Bendy And The Dark Revival.