SECRET NEIGHBOR

GAME INFO
Secret Neighbor ™ is the second part of Hello Neighbor by tinyBuild... now in multiplayer mode! how fail recover your friend in the basement of the mysterious neighbor?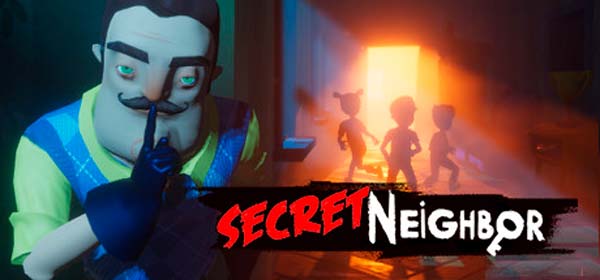 Secret Book (also known as Hello Neighbor 2) aims to be a new success as a continuation of the famous game of suspense and action Hello Neighbor, and they are already talking about the most well-known YouTubers such as Bersgamer (more than 4 million subscribers, gameplay).
On this occasion, a child he roamed through the house the neighbor has disappeared mysteriously and without a trace. A group of children decide to go into the house to find out what was in it, but there is a problem... the neighbor is infiltrated as one of the children! Ingéniatelas team, with players online from all over the world, to deceive the neighbor, and reach up to the basement of his home.
The events of the story happen between the Act 1 and Act 2 of Hello Neighbor. The novelty of this delivery is that you can play as one more of the children or as the same neighbor. If you play as one of the children, you will not be able to trust anyone because you know that one of the group is the infiltrator and traitor... good Luck!
The game Secret Book has been developed by Tiny Build (website), creators of the first delivery, and other hits such as Clustertruck or Guts and Glory. You can get the latest news and updates in the official site of the game.
If you liked this game maybe you are interested in other Horror games or Action Games or Adventure Games of our selection, such as: Roblox Doors, Just Die Already, Hello Neighbor 2 (Hello Guest Alpha), Baldi's Basics Plus, Kill It With Fire, Granny (PC game), Baldi's Basics, Poppy Playtime, Boris And The Dark Survival (BATDS) or Granny: Chapter Two (Granny 2).
How to download and play Secret Neighbor (Beta)?
Secret Neighbor is still in its development phase and is scheduled for inminent output in the well-known portal video game Steam during 2019, but you can play completely free Secret Neighbor Alpha Test version if you are lucky and as a result selected!
To download Secret Neighbor Beta and play for free do click here and follow the instructions, or follow these simple steps:
Click "PLAY NOW" located in the top left of this post.
Wait for it to load the official page of the Beta on Steam.
Previously, you must have the Steam application installed on your PC.
Click "Install game".
Follow the download and installation instructions and … let's play!
Or, alternative link:
The release date is not clear, but you'll be able to get Secret Neighbor on Steam:
Technical Requirements Secret Neighbor (recommended)
OS: Windows 10
Processor: Intel Core i7
RAM: 8 GB
Graphics Card: GTX 1060
DirectX: v.12
Disk Space: 5 GB available
Recommendations: have a microphone, because it is necessary to communicate with other players and have a connection to broadband internet.