Plants vs. Zombies

GAME INFO
Have fun with one of the most successful zombies and defense games of recent times: Plants vs. Zombies ™
A beautiful and quiet sunny day, sitting in front of your beautiful garden of your magnificent house, in an idyllic middle-class neighborhood ... what can alter a day like this? ... a horde of zombies! Here we bring you the game that has been a success in both iPhone and Android, as well as a bestseller on all platforms consoles of video games, this is Plants vs. Zombies ™ . In this fun and addictive online game you must protect what you want most, your home, your home and yours of successive and insistent waves of zombies, the "undead", the "Living Dead", the "walkers" ... they are hungry and eager to eat brains!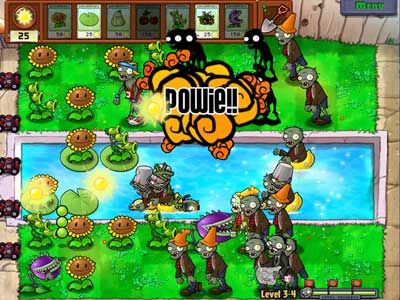 Over multiple levels of difficulty you will have to defend your home from various scenarios and times of the day: the Front garden (day), front garden (at night), the swimming pool, the backyard (with fog) and the roof of the house. To defend yourself from the zombies you must use a whole arsenal of plants and vegetables present in your garden. You must act with intelligence and strategy, knowing each enemy and the advantages of each of the plants because your victory will depend on it.
In Plants vs. Zombies, the mechanics is similar to the Tower Defense games, where you must defend your position (your home) of countless zombie attacks. During the game, a character named CrazyDave, considered the neighborhood crazy, is your peculiar neighbor, a lover of Mexican tacos that will inform you of the skills of each plant as well as give you vital information that will help you during the development and history of the game.
The supreme chief, the villain of Plants vs. Zombies is Dr. Zomboss. This crazy Doctor is an ancient scientist turned into a living dead and responsible for the hordes of zombies who are terrorizing the neighborhood, eating the brains of all the living and now wanting to attack your home for the same purpose. It moves by the game to the controls of a sinister and gigantic attack robot.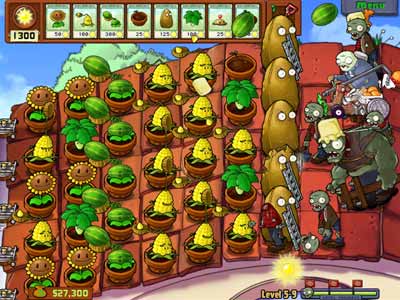 Each plant and vegetable has a different skill and utility against zombies, even if it is day or night:
Peashooters plant: A plant that spits peas as a projectile.

Sunflowers: Entertained the zombies for a few seconds.

Bombs: explosive cherries as grenades.

Patatapum: Explosive potatoes by way of mines.

Chompers plants: Plants that devour the rotten flesh of the zombies.

mushrooms, jalapeños, ... and many more!
As the game progresses you can discover plants with special abilities, which when planted on other existing plants are improved and replaced by the new hybrid plant. Dozens of plants, mushrooms and vegetables with countless utilities and functions but attention: there are also dozens of types of Zombie. Each of the zombies possesses a special skill and function, they will even use objects to avoid the attacks of your plants, which makes them very dangerous. There are zombies who were former athletes who will use Poles to jump plants, others were former rugby players, others will employ stairs, balloons, cones, ... In this crazy plant vs adventure. Zombies you can find memorable moments as an invocation in which a group of zombies will perform a choreography inspired by the super successful thriller of Michael Jackson ... and many more surprises!
Get ready for hours and hours of fun with Plants vs. Zombies, playing in the adventure mode (where you will develop the story, knowing each type of plant and zombie as you advance levels and difficulty), survival mode (a difficult challenge playing in fog conditions) or Puzzle mode. Within the game you will find Extra bonus such as mini-games, a relaxing Zen garden where you can plant and collect as well as an almanac where the ability and information of each of the plants and zombies present in the game is explained.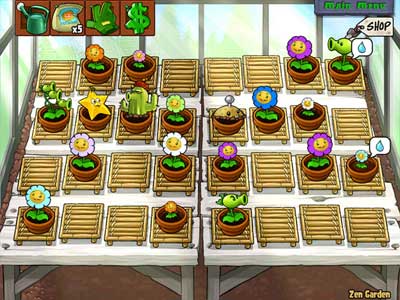 Plants vs. Zombies is one of the great successes of recent years, discover it and play completely free without downloading anything now! You can access the full version of the game here.
How to play Plants vs Zombies
Controls
C = Change View

Right mouse button = Weapon change (machine gun/explosive projectiles)

Left mouse button = Shot

Mouse = Airplane Control

ESC = pause/Exit game

Right key/Left key = fast turn with tail rudder
If you like this game, you can play Plants Vs Zombies 3 (Pre-Alpha).