MAFIA BATTLE

GAME INFO
MAFIA BATTLE ™: Build a whole criminal empire, feel the power by making you respect against other mafias, protect your family and much more in one of the best mafia games

Delve into Mafia Battle in life as a capo (leader) of a mafia. Form your family and fight to be the most powerful in the city. We present this fun strategy game and action but this is not a game any ... it's all a MMO game or massive multiplayer online, as well as being multi-platform, to play wherever you want thanks to HTML5 technology.
Mafia Battle is a MMO game with which you will be able to fight and respect thousands of players from all over the world (the game is available in 20 languages), but not only that, it is also a social game because you can communicate and chat with other rival players to confront, create alliances ... Grow your empire at all times: building business, even hospitals, ... and much more. You will have to be a great strategist as capo of your family, organize well your criminal activities because of the result of the same will depend on the money you earn and thus the power against other mafia families. As an example you can organize blows to banks to make you with important money booties, car theft to resell, capital evasion, ...
Another important goal will be to do you with the favor of the citizens, how? Well, creating jobs for them. If you need to finish your opponents if they meddle in your interests, make use of the weapons and attack! But be careful because this is a Mafia war and as your family capo you must watch your back because you will have thousands of enemies interested in getting out of the way.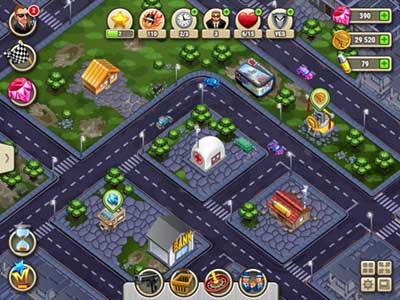 In the midst of this war you will have moments of entertainment, like going to the casino. There you will be able to play different games: roulette, roulette of fortune, greater or lesser, slot machines, blackjack ... earn money and accumulate because you will need it to expand and maintain your economic empire. Build your own plant for the manufacture of ammunition, you're going to need them to arm your army of minions, your family. With Mafia Battle you can even manufacture drugs and carry out drug trafficking ... your family can sell it at the best price! When you have the economic triumph, why not? Build yourself a Mansion!
Thanks to your criminal activities in the game Mafia Battle you will gain experience (unlocking of levels), money and respect. Become a master of criminal activity. You will have to pay attention to this MMO because beginner players are playing go to jail. In each level or location of the game you will be scored with stars. Getting three stars means: Winning the attack, staying with all the loot available and leveling up.
By registering in the game you will be able to create your own personalized avatar whether you are a man or a woman. It is important to have a hospital of your own, because your health might determine losing an attack or defensive battle. You can also join other players by forming a family to attack other mafias. You'll get your share of the profits that that family is generating.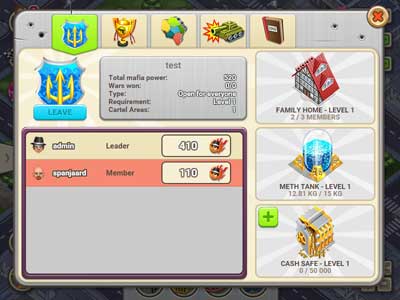 Your goal in Mafia Battle will be:
Become the most respected Mafia boss.

Control your rating (thousands of players from all over the world compete for power)

To grow your empire.

Complete all the jobs.

Get all the badges.
As a social game you will have the following options:
You can chat (public or private) with all players.

Collaborate with other families to perform missions.

Share your results on Facebook or Twitter.

Participate in competition events.

Ally with another family to assault a transport of money and distribute the loot.
What do you think, you're liking mafia battle? Are you passionate about movies like The Godfather? So Mafia Battle is your game! And not only is it a game because it is in question your reputation as great capo and your empire in front of thousands of players from all over the world ... go ahead and play!
How to play Mafia Battle
Controls
Mouse: (follow tutorial inside theh game)