LITTLE HOPE

GAME INFO
The Dark Pictures Anthology: Little Hope is the cinematic action horror game… with multiple endings!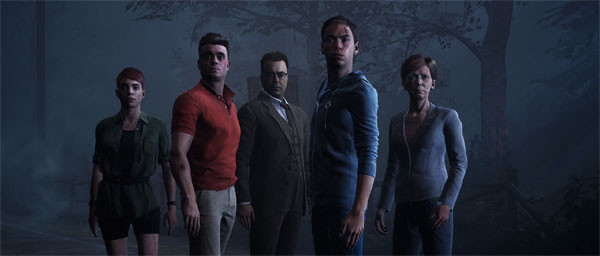 The Dark Pictures Anthology: Little Hope is the second installment of the horror games collection of the British studio, with cinematic action and where you must meditate well your actions… because it will depend on your life and that of your friends! In this guide we will tell you more about this success and how you can play for free… we're on!
In this game the action will take you to Little Hope, a dark abandoned village, where in the seventeenth century the trials of the so-called Witches of Andover took place.
Until then you arrive with your professor and 3 other classmates from the university, but soon you will realize that you have got into a cursed place full of mystery.
The thick fog covers everything and does not let you see beyond a few meters. No matter how hard you try to get out of town, it's impossible… you always come to the same place!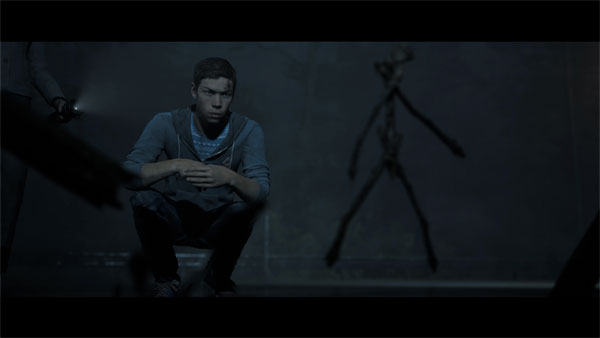 With a succession of cinematic scenes, you'll have to choose what to do after each of them, making decisions that will affect the plot, but also the characters… anyone can die!
Supernatural appearances and presences will give you clues to what happened there in the seventeenth century and that has connection with each of the characters. Only by solving the mysteries can you get out of this town alive and escape the fog.
A Little Hope can be played online with 1 friend or up to 5 players locally. This last option is ideal for each player to control one of the characters and enjoy an immersive horror experience, in collaborative mode and live it like a scary movie.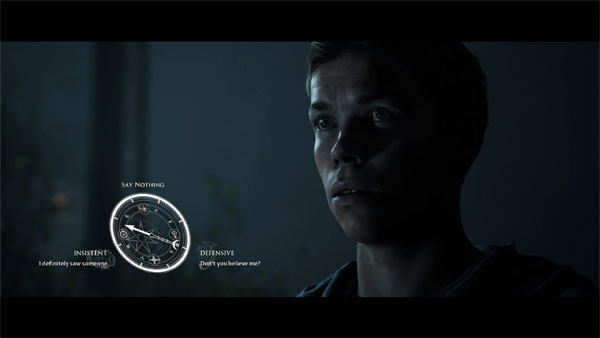 The game modes in Little Hope are: single player (Theatrical Cut & curator's Cut) or multiplayer (Movie Night)
In short, Little Hope is a horror adventure that invites you to play again and again, because depending on the decisions you make (or your friends) give rise to countless different endings and you will discover new mysteries that will make no game equal to the previous one… you dare to play?
The Dark Pictures Anthology: Little Hope Gameplay
The well-known YouTuber H2ODelirious (with 13 million followers) is one of those who is already uploading videos about Little Hope:
How to Download free Little Hope (Demo)
Lo que sí puedes jugar es a una versión demo oficial de prueba. The game can be obtained on Steam, but in paid version (you can buy it here). What you can play is an official trial demo version.
If you want to download and play Little Hope for free (official demo version) follow these steps:
Click on the "Play Now" button located at the top left of this same post.
Wait for it to load the link to the game page on Steam.
Click on the image or text below and it will direct you to Steam.
Click on the "Download Demo" button (see screenshot).
Follow the download and installation instructions.
Enjoy the game!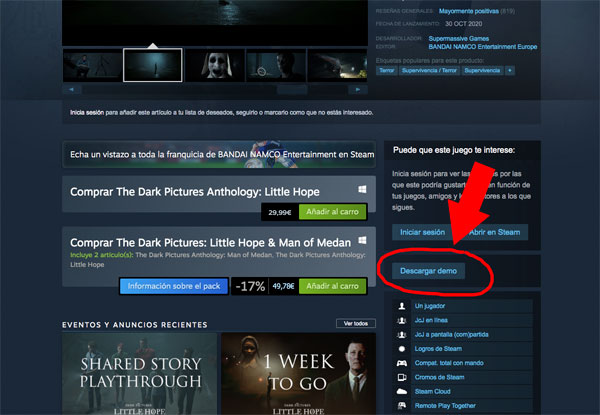 The Dark Pictures: Little Hope Release Date
Little Hope has been released on October 30, 2020 for PC (Steam), PS4 and Xbox One.
Little Hope Cast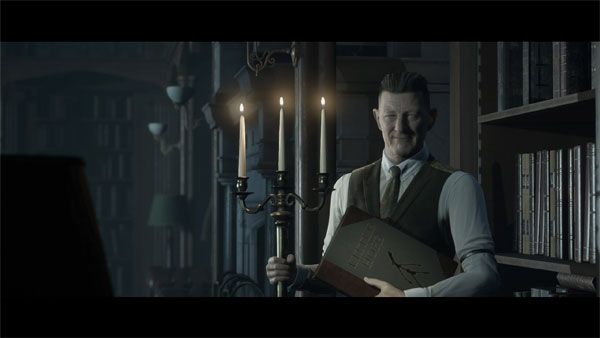 For the cast of Little Hope has been counted with famous actors of cinema and series:
Will Poulter is Andrew, Anthony Clarke.
Ellen David is Angela & Anne Clarke.
Kyle Bailey is Daniel & Dennis Clarke.
Alex Ivanovici is John & James Clarke.
Caitlyn Sponheimer is Taylor & Tanya Clarke.
Skye Burkett is Megan Clarke & Mary.
David Smith is Reverend Carver.
Pip Torrens is the Curator.
Recommended technical requirements for playing Little Hope
OS: Windows 10 (64 bit)
CPU: Intel Core i5 8400 / AMD Ryzen 5 1600
RAM: 8 GB
Graphics: NVIDIA GeForce GTX 1060 / AMD Radeon RX 580
DirectX: version 12
Disk space: 80 GB
Broadband internet connection
If you liked the game The Dark Pictures Anthology: Little Hope, you may be interested in other horror games from our collection such as: Phasmophobia, Start Survey?, Baldi's Basics Plus, Hello Neighbor 2, Boris and The Dark Survival or Granny.
Little Hope has been developed by the British studio Supermassive Games, authors of the first installment (Man of Medan) and the anthology are expected up to 8 stories (games). For more information you can visit their official site, instagram or twitter.