BORIS AND THE DARK SURVIVAL

GAME INFO
Boris And The Dark Survival ™ is the new Horror Bendy And The Ink Machine Game!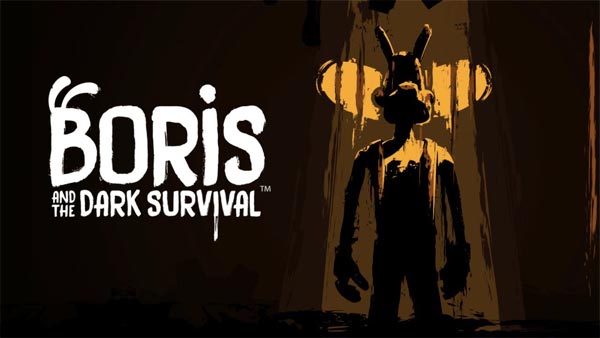 Boris And The Dark Survival (BATDS) it's the newest of one of the sagas of horror games that Joey Drew Studios has released on the third anniversary of BATIM (Bendy And The Ink Machine). Read on, because in our post we will tell you all the information about this game of Buddy Boris and if it can be downloaded to play for free.
On this occasion, you can play as the character of Boris The Wolf (Bendy's partner). You're stuck in the abandoned cartoon studio, where you'll have to find the supplies you need to survive.
But… the sinister studio is not empty! the ink demon is looking for you, he can hear any noise you make. Be stealthy, try to survive this nightmare… and discover more riddles and mysteries about the story behind the game!
If you dare, if you are bold enough, you can discover secrets. Listen carefully to the heartbeats of the ink demon, for it will serve as a warning to you when it is near. No hiding place will be safe… you dare to play?
Boris And The Dark Survival (BATDS) Gameplay
In Boris and The Dark Survival, the stage is generated randomly at each level of the game, so you will never play at two levels equal. The mission of lobo Buddy will be to find supplies, search and listen to audio recordings by the studio, to discover their secrets.
In each phase you will have to find a total of 6 supplies, which change in each game. Once the supplies are found, the ink Bendy Demon will come after you, wherever you are. Your only way to escape and survive is to get to the elevator, which will lead you to freedom.
The YouTuber known as DanTDM (over 22 million followers) is one of the most influential in the gaming and has already commented on the game in its analysis-review "I played as Boris! New Bendy game":
Tricks and Secrets for Play Boris And The Dark Survival
When you move through the cartoon studio, watch every time you see a hole in the wall. For these gaps, you can find bendy, theMeatly (the game creator) or chairs.
You will need to find the voice recordings, which will be very important to know more mysteries. The audios are three recordings by different people, such as: Thomas Connor, Wally Franks or Jack Fain.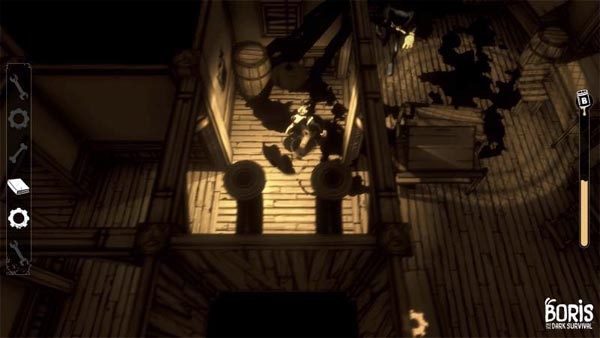 You will also need to find up to 4 music discs, which can be heard on the gramophone. Once all 7 audios have been found, you can see a selection of images (from BATIM Chapter 3) where they appear: Alice Angel, Bendy and Boris himself.
Listening to Norman Polk's recording, you'll find a heart of ink on a plate. If you choose to collect the heart, you will hear a cry from The Projectionist (which reappears in this new delivery).
How to Escape Ink Bendy
Escaping Ink Bendy is really difficult and complicated, because you can hear absolutely everything you do, however far you are in the studio.
As soon as Boris plays a recording or just opens a closet, Ink Bendy will start moving towards your location.
Tip: make noise on purpose to lure it to Little Miracle station (it's in the central area of the studio) and when it's coming, run to other areas to explore and find objects.
How to download and play Boris and The Dark Survival for free for PC, Mac and Android
BATDS has been released on Steam (for PC), Gamejolt and itch.io (PC and Mac) and for mobile devices on the Google Play (Android), in pay version (it is very cheap) and unfortunately there is no official Demo version, but you can play the original game of the free saga (BATIM).
If you want to play free Bendy And The Ink Machine for PC follow these simple steps to download:
Click on the button "PLAY NOW" button at the top left of this post.
Wait for me to upload the link to the official game site on itch.io.
Click the "Download Now" button.
Follow the download and installation instructions on your pc screen and… let's play!
Alternative download Links:
Download for Windows (PC) on Steam: here.
Download for Windows (PC) or OSX (Mac) on Gamejolt: here.
Download for Windows (PC) or OSX (Mac) in itch.io: here.
Download for Android on Google Play: here.
Boris And The Dark Survival Release Date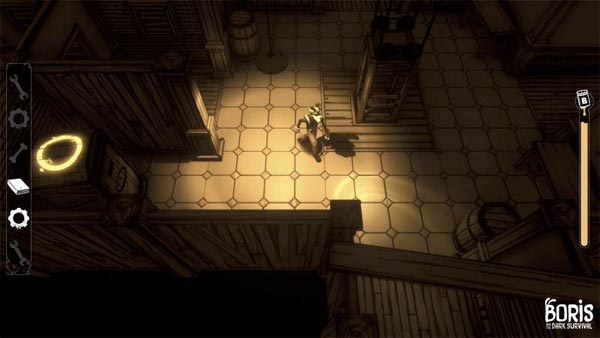 The release date for Boris and The Dark Survival was February 10, 2020.
If you liked this game you might be interested in other horror games from our selection such as: The Mortuary Assistant, Leatherface: Shadow Of Massacre, Hello Neighbor, Showdown Bandit, Granny: Chapter Two (Granny 2), FNAF or Baldi's Basics.
Boris And The Dark Survival has been developed by the independent study Joey Drew Studios, based in Ottawa (Canada), creators of other successes of the saga as a BATIM or Bendy And The Dark Revival.
You can see the official trailer of the game ad (here) and see more news on Joey Drew Studios official Site (here) or on his twitter.