THE MEGA PARKING BLOCKS

GAME INFO
The Mega Parking Blocks (Minecraft Parking): drive by the parking lot and parks as soon as possible with this addictive car game
If you're a fan of the play Minecraft you will like this fun and entertaining game. In this case you won't be a miner or you have to chop anything but that will be a driver. Your mission will be to get Park your car, it's simple... but easy? Not really. Take control of your vehicle and show your skill as a driver. You will have to master the throttle, brakes, and address to complete the levels. In Mincecraft Parking (The Mega Parking Blocks)'ll find care and made beautiful sceneries in 3D.
Choose three difficulty levels: Regular, Skill and Extreme (these last two are unlocked with points made previously). Each level has 8 sublevels of increasing difficulty. Choose your vehicle (you can redeem points for new vehicles as a car of sports, all-terrain, police, etc.) You have three lives to complete the level. Possibility to change the point of view of the game with two chambers.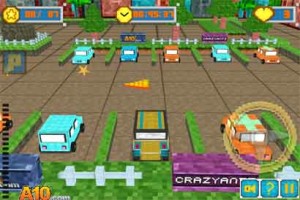 In each level will have to complete a tour by the parking, avoiding crashing into obstacles such as cones, other vehicles, drums, etc. but careful! no harm the other parked vehicles. You will have to collect all the possible stars that you encounter on your journey. The timer will run against you, you have limited time (50 seconds) to complete the level. Have fun with this driving game as addictive as entertaining.
Controls
up address key / W = accelerate
arrow keys / a-d = rotation of the steering wheel
down arrow key / S = running back
space bar = brake