YANDERE AI GIRLFRIEND SIMULATOR

GAME INFO
YANDERE AI GIRLFRIEND SIMULATOR - With You Until the End is a Girlfriend Simulator Game… that works with ChatGPT!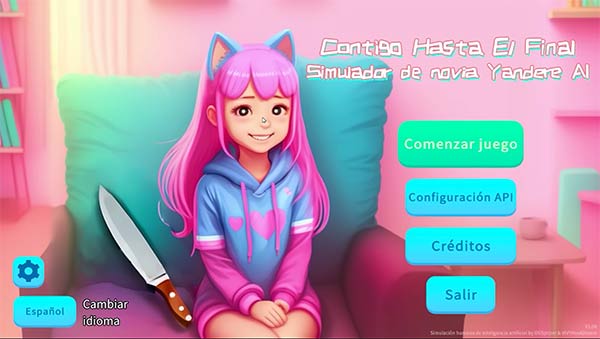 Yandere AI Girlfriend Simulator - With You Til The End is a new horror game based on the popular character of Yandere, who caused a sensation a few years ago, but now she's a much smarter killer! and it connects with the ChatGPT artificial intelligence API. In this review you are going to know more about this game and we tell you how you can download and play it for free.
This is much more than a game, it is an escape room in which you will find yourself in a nightmare situation. You are the boyfriend of Tuchakalona, a very possessive girl and from whom you cannot escape.
She's beautiful and seems harmless, but she's a psychopath! a toxic woman with very changeable moods, but one thing is clear to her: she wants to be with you forever.
In this way you will find yourself trapped in an aimless relationship, so much so that you will not even be able to escape from your own apartment, because it will prevent you in every possible way.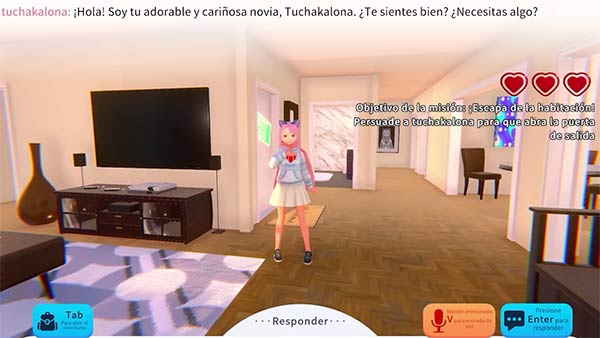 Your mission will simply consist of talking to her and trying to convince her to let you out of a home turned into a prison.
Talk to Tuchakalona and the magic of ChatGPT's artificial intelligence will do the rest. You're going to have to think very carefully about what to say to her and how to convince her.
You can try to trick her, distract her by playing video games or while watching a movie, but be careful: she's very smart and it's going to be very difficult.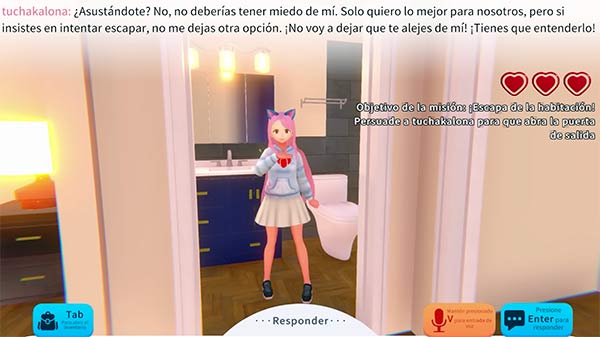 Forget about escaping through a window, because they are boarded up. Wherever you go, in the kitchen, the bathroom or the bedroom, your girlfriend will be there to ask you not to leave her for a second.
Get ready because the mental harassment is going to be hard, she will not stop trying to keep you next to her and if you resist she will finish you!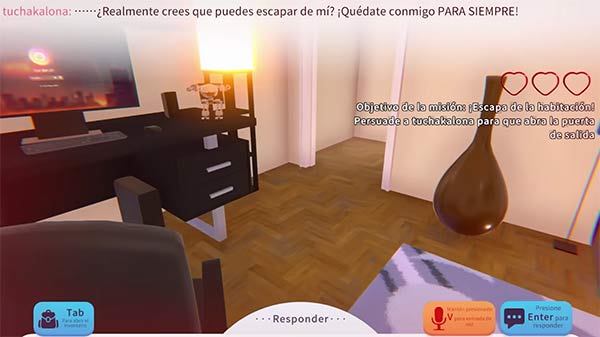 In conclusion, we rate Yandere AI Simulator very positively, for being a version of the Yandere game that introduces a novel element and that makes the game never be the same. Intelligence and moments of anguish and terror in equal parts are you ready for such a relationship? then dare to play.
Yandere AI Girlfriend Simulator - With You Til The End Gameplay
A game as disturbing and crazy as this could not be missing on the LaurenZside channel (almost 8 million subscribers on YouTube). Have fun with the comments of this streamer while playing the Girlfriend Simulator Yandere AI (With You til the End):
How to Download and Play YANDERE AI GIRLFRIEND SIMULATOR for PC for Free in English
Yandere AI Girlfriend Simulator is an independent horror game that has been released for free on the site itch.io , very popular among game developers who want to publish their projects openly. If you want to download Yandere AI Girlfriend Simulator for free on your PC, just follow these step-by-step instructions/tutorial:
Click on the "PLAY NOW" button located at the top left of this same post.
Wait for the link to the official website of the game to load on the portal ich.io .
Click on "Download Now".
The link will take you to the site of itch.io .
Again, click on the "Download Now" button.
In the next step you can click on the link "No thanks, just take me to the downloads" or you can donate an amount to the creator of the game (it is not mandatory).
On the next screen, click on the "Download" button.
Choose the version you want: Mac (638 MB), Windows 32/64 bit (611/619 MB) or Linux (622 MB).
The download of a compressed file will begin.
Once downloaded, unzip the file and follow the on-screen instructions for installation.
Enjoy the game!
IMPORTANT: to play Yandere AI Girlfriend Simulator, it is necessary to indicate the API keys of the paid version of ChatGPT (so the game is free, but connecting with the AI will have a cost). If you also want to listen to the girl's voice, you can also use the Azure Speech Service API. You can follow the instructions to configure the API with Yandere AI Girlfriend Simulator with this tutorial.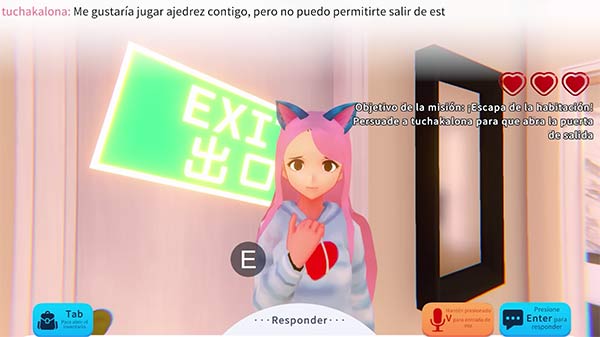 Recommended Technical Requirements
OS: Windows 32/64 bit, OSX (Mac) or Linux
Available space: 700 MB
Others: ChatGPT account and generate API keys
If you are interested in horror and survival horror games like this Girlfriend Simulator Yandere AI you may be interested in similar ones like: Doki Doki Literature Club, Garten of Banban, The Man from the Window, Granny Remake or Poppy Playtime.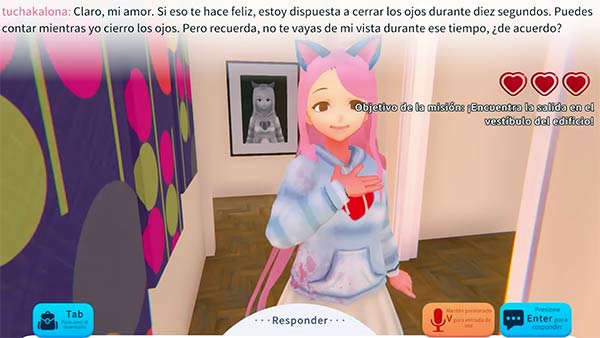 The game Yandere AI Girlfriend Simulator / With You Til The End is an independent game developed by DGSpitzer. You can check out more information and other DGSpitzer projects on his twitter.