Cut The Rope: Time Travel

GAME INFO
Cut the Rope: Time Travel ™ The sequel to the string cut game but now with on nom... traveling in time!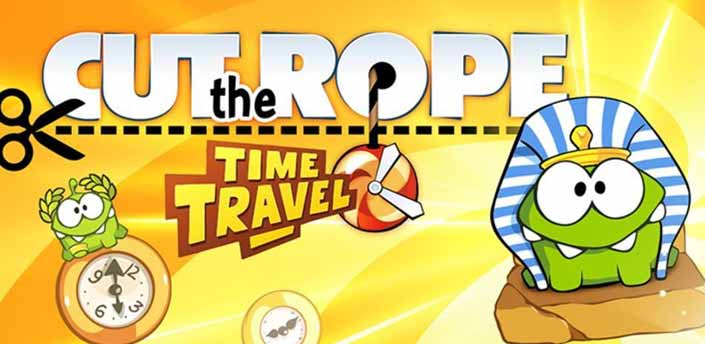 Sequel of Cut the Rope, the successful download record and success of critics in the press specializing in video games. If you liked cut the rope get ready because in Cut The Rope: Time Travel You will again experience what it means to squeeze your brain using the logic and laws of physics in this orginal and addictive game of cutting strings. Play this game for free on your PC, tablet, mobile phone or cellular with HTML5 technology.
On Nom is very innocent but curious, is its flaw. One day gossiping for your lab discover a mysterious machine under a sheet. On nom actuates the controls while around and puts it into operation accidentally ... it's a time machine! The small being is transported in time randomly, visiting various eras of history as the Middle Ages, the Renaissance, a pirate ship, ancient Egypt, Ancient Greece, the Stone Age and the era of discovery.
In Cut the Rope: Time Travel In addition to feeding candies to on nom you will have to feed your ancestor in every epoch of history that is visited, with what the challenge becomes double! As in the first installment of the series Cut the rope, the mission will be to cut the strings at the moment and precise way to bring the candies to on nom and his ancestor, as well as to get together the three stars present on screen. At the end of each level you will receive star bonus and time bonus (the faster you solve the more points level).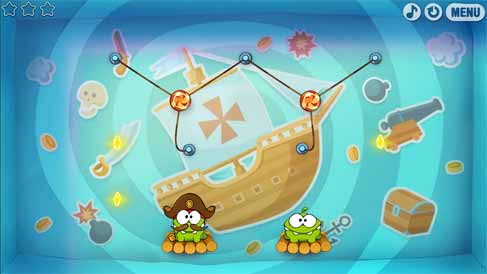 In this new installment you also have extra elements like bombs or dimensional portals to achieve your goal. On Nom and his ancestor are very hungry for candy ... hurry, use your intelligence, logic and wisdom to reach the end of each level ... luck!
How to play Cut The Rope: Time Travel
Controls
Mouse: Click on left button/to cut a string slide the mouse pointer over it