LITTLE NIGHTMARES II

GAME INFO
Little Nightmares 2 is the second part of the horror and adventure game… now with more fear! (Free Demo)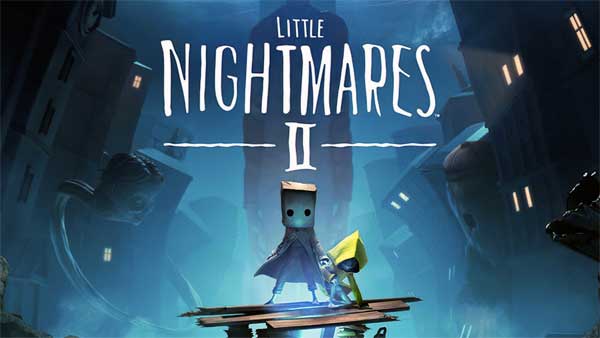 Little Nightmares II is back and is one of the horror and adventure games that captivated many in its first part, but that is now much more scary.
An enigmatic game, at the same time terrifying, where reality and fiction go hand in hand in a disturbing adventure, so keep reading because we are going to tell you more and how you can download it to play for free because the official Demo has already been released (on Steam)… here we go!
In this new adventure, Six (the girl who already appeared in the first game) returns to play Mono's guide, a boy trapped in a distorted world from which he cannot escape on his own.
The culprit of everything - the emission of a mysterious transmitting antenna. With more dark and disturbing scenarios, you will live small nightmares in which you will have to solve puzzles and puzzles to advance.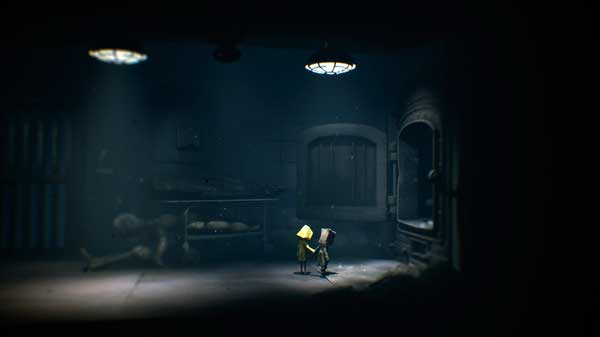 You will have to explore a mysterious world, while avoiding dying in horrible ways, solving puzzles to solve the mystery of the transmission source.
The atmosphere of the game is based on the original, but with much more disturbing elements and creatures that make this scary story much more intense.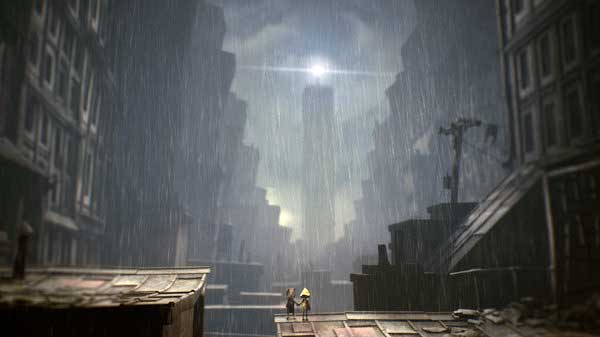 The movements of the characters are very accomplished and the challenges to solve are very well thought out to make the game much more tense than in the first part.
It is a work of art on a graphic level, a beautiful but terrifying story in which your wits and nerves will come into play.
Training begins today, little ones.

The #LittleNightmares II Wilderness demo and digital pre-orders are available now on Steam. The demo will be available for PS4. XB1, and Switch in early 2021, stay with us for updates. https://t.co/AOr9y557au pic.twitter.com/82hcGzpApU

— Little Nightmares II (@LittleNights) 9 de diciembre de 2020
In short, it is a horror adventure in which you have to squeeze your brain and keep calm to be able to move on… you dare?
Little Nightmares 2 Gameplay
A specialist in horror games is the YouTuber known as DanTDM, a whole institution in the theme, with over 24 million followers and whose gameplay you can see below:
Many other YouTubers have also discovered this original and dark game. You can see the fun gameplay of Jacksepticeye here.
How to Download a Free Demo of Little Nightmares II
The second part of Little Nightmares has not yet been released (it can be pre-purchased on Steam) but you can try the official Demo version. To download and play free Little Nightmares II (official demo version) follow these steps:
Click on the "Play Now" button located at the top left of this same post.
Wait for it to load the link to the game page on Steam.
Scroll down to the "Download Little Nightmares II Demo" section".
Click on the "Download" button (previously you must have Steam installed on your PC, download it for FREE here).
Follow the download and installation instructions.
Enjoy the game!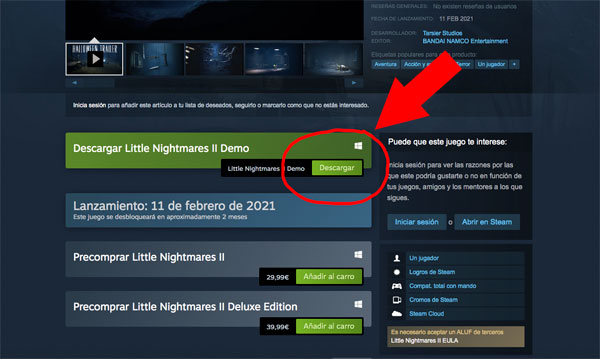 Little Nightmares 2 Release Date
The official release of Little Nightmares II will be on February 11, 2021, in version for PC, PS4, Xbox One and Nintendo Switch. If you wish, you can pre-purchase the game on Steam, in standard version and Deluxe Edition (here).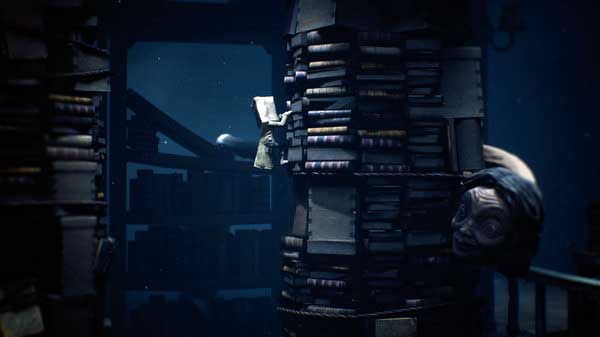 The demo version of Little Nightmares II is now available, but only on Steam (for Windows PC) and during 2021 optimized versions will be released for Xbox Series X and PS5.
Minimum Technical Requirements to Play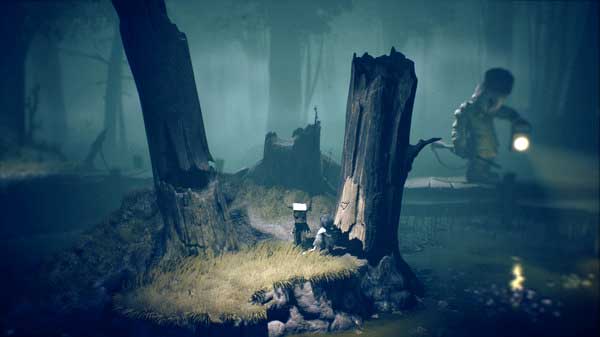 OS: Windows 10 (64 bit)
CPU: Intel Core i7-3770 or AMD FX-8350
RAM: 4 GB
Graphics: Nvidia GeForce GTX 760 with 2 GB or AMD Radeon HD 7870 with 2 GB
DirectX: v. 11
If you liked the game, you might be interested in other horror games and similar adventure games like: Labyrinthine, Phasmophobia, Start Survey?, There is No Game: Wrong Dimension or Hytale.
Little Nightmares II (Little Nightmares 2) has been developed by Tarsier Studios and published by BANDAI NAMCO Entertainment. For more information and updates to the game, you can check their official site here.