MY FRIENDLY NEIGHBORHOOD

GAME INFO
MY FRIENDLY NEIGHBORHOOD is the Survival Horror Game… with crazy Sesame Street Puppet Show!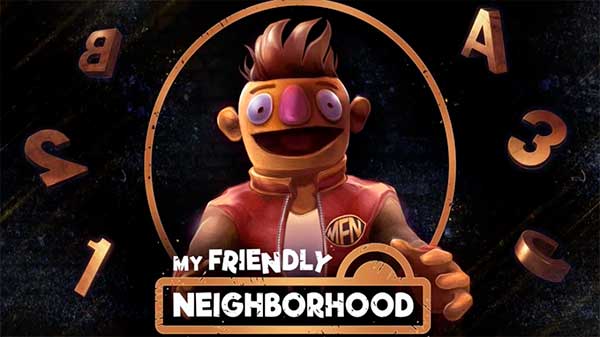 My Friendly Neighborhood (MFN) is a horror game different from all survival horror. If you are looking for a survival and escape game, but not the classic of scares, this title will catch you.
In our MFN review we will tell you all about one of the games that promise to become a benchmark within the genre. We also tell you how you can download and play for free (official demo)… let's get started!
My Friendly Neighborhood was a children's television program that was all the rage on Saturday mornings, until the audience plummeted and various economic problems of the producer caused its cancellation.
Over the years, the TV studio has been abandoned, but one good day came the surprise: MFN has returned to broadcast and inexplicably during the holidays… your signal has reached every TV in the country!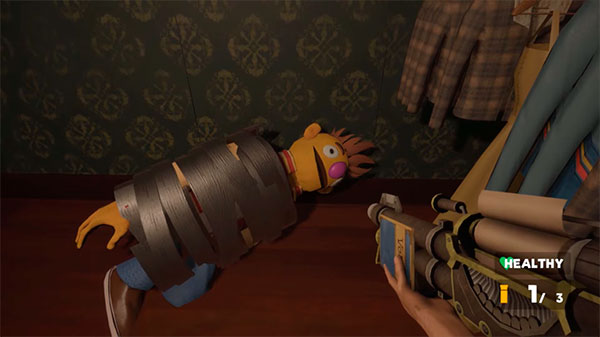 In this game you will be Handyman Gordon, an antenna repair technician who has been sent to the old TV studios to find out the fault of the antenna and cancel the broadcast.
But when you arrive at the building you discover something terrifying: the old dolls and puppets from the My Friendly Neighborhood show have come to life and are killing each other, but they also want to take you down.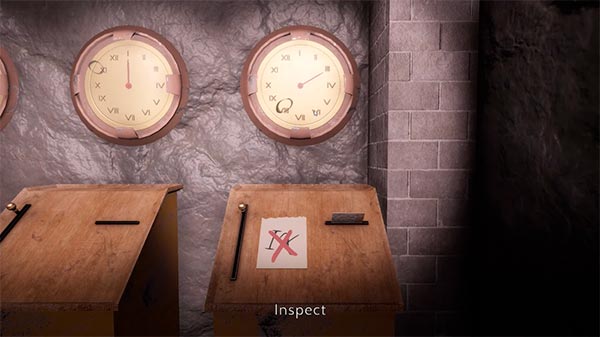 Explore every room and corner of the studios, because you will have to investigate, solve puzzles and find a way to find out what is going on, while staying away from the dolls.
In this disturbing story you must find and master weapons such as the Rolodexer, inspect old scripts, collect items, open safes and a thousand other things.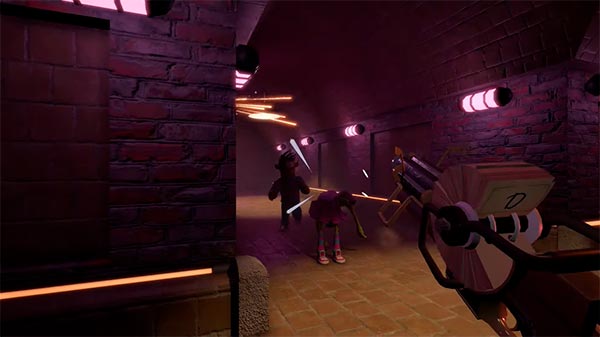 In addition, it is important that you know at all times where you are, because the building is huge and there are many filming sets (we recommend you to consult the map).
The mechanics of the game are done in a first-person perspective (the protagonist is never seen throughout the game) and the puppets will simply do everything possible so that you can not reach the roof, the antenna.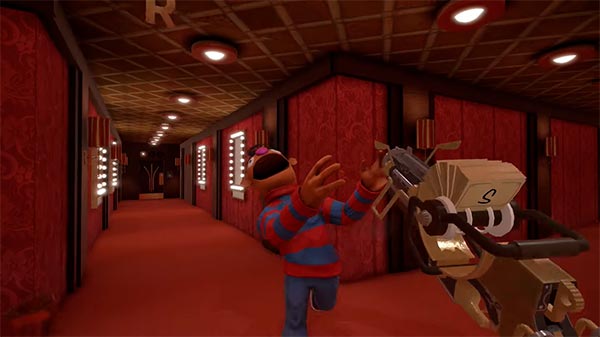 In conclusion, MFN is something new, different from all this type of creepy games that have been so successful in recent years, a nod to the Sesame Street series but with a creepy touch, mixed with action, mystery and adventure game that catches you from the first moment… would you like to play?
MFN (My Friendly Neighborhood) Gameplay
One of the youtubers specialized in horror games that MFN has already tried is jacksepticeye (with more than 28 million followers). Below you can see his analysis in his video "Swallow your hands" :
How to download and play MY FRIENDLY NEIGHBORHOOD for free (Official Demo)
The launch of MFN has no confirmed date, but is scheduled for this year 2022. Meanwhile, you can play the fully operational demo version for free, which you can officially download for free. To download My Friendly Neighborhood free follow these steps:
Click on the "PLAY NOW" button at the top left of this post.
Wait for the link to the MFN page to load on Steam.
Click on the image or text below "CLICK HERE TO DOWNLOAD".
A new page will open on Steam.
On their website, scroll down to the section to download the Demo version (see image below).
Follow the on-screen download and installation instructions.
Enjoy the game!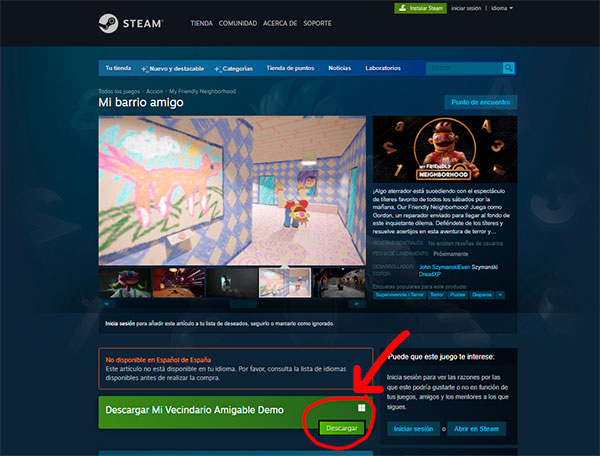 Important: to download the game you must have the Steam application installed on your PC.
Technical Requirements to play My Friendly Neighborhood
OS: Windows 7 (64 bit or higher).
CPU: Quad Core de 2.5GHz processor or higher.
RAM: 8GB.
Graphics: NVIDIA GTX 470.
Disk space: 6GB.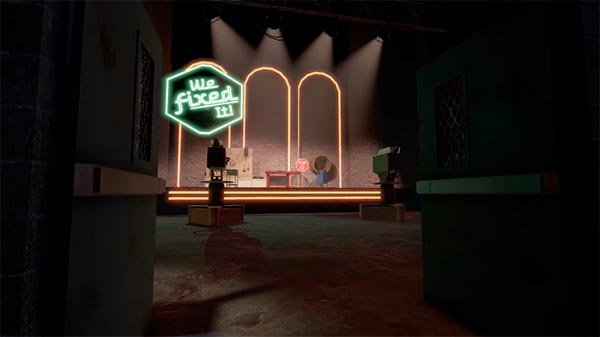 If you liked the game, surely you are interested in other Horror and Survival Horror Games of our selection like: Poppy Playtime, Hello Puppets Midnight Show, The Return to Bloody Nights, Five Nights at Freddy's Security Breach, FNAF AR Special Delivery, Hello Neighbor or Phasmophobia.
MFN is a game developed independently by Ducky Dev, a studio of John Szymanski and Evan Szymanski brothers. You can learn more about her work and news from My Friendly Neighborhood on her twitch or twitter (you can also support her work on her Patreon profile).
If you want, you can buy MFN on the Steam portal (here).