HELLO PUPPETS: Midnight Show

GAME INFO
New from the creators of Hello Neighbor is Hello Puppets: Midnight Show… Escape the Puppets!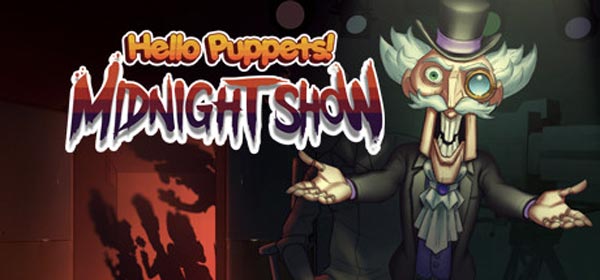 Hello Puppets: Midnight Show is the latest from the creators of one of the most famous horror games of recent years: Hello Neighbor. On this occasion you will again face the artificial intelligence of some sinister haunted puppets. Will you escape alive?
In our article we thoroughly analyze this new game that promises to cause sensation and fear, a lot of fear. Keep reading because we tell you everything and how you can download it for free… everything next!
This new game from tinyBuild will take you back to the 80s, when a famous children's TV show (known as "The Men of Mortimer Handee") is on the verge of being cancelled due to poor audience results.
You will be Owen Gubberson, a puppet master, who in his desperation casts a sorcery spell to bring the puppets of the program to life… but you don't master magic and everything goes very wrong!
Puppets are transformed into sinister beings capable of any evil. Your mission: end the spell before dawn in the recording studio, as well as get out alive.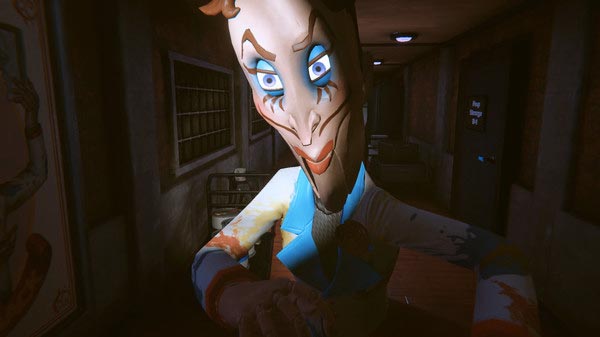 The puppets will search for you and chase you all over the building to finish you off. It will not be easy to escape, because an artificial intelligence system will learn to anticipate your strategy.
You'll have to walk stealthily, quietly, learning to hide, act and not be seen. To add difficulty to the game, each puppet has its own personality and way of acting.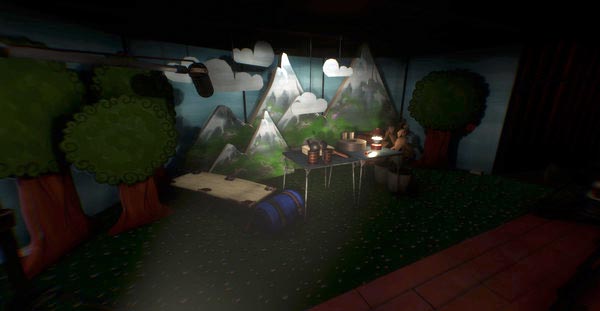 Not only will you have to hide, but you will also have to complete challenges and fun mini-games. The mystery will plunge you into an atmosphere of anguish, but you will also be surprised by puzzling script twists that only the most observant players will understand.
Hello Neighbor's stealth and mystery success formula is maintained and enhanced in this new Hello Puppets Midnight Show. You'll jump out of the chair and be equally surprised… do you accept the challenge? did you know that at the moment you can try this game for free? we tell you.
Hello Puppets Midnight Show Gameplay
If there is a specialist in horror games that is the YouTuber 8-BitRyan, with more than 3 million followers on his popular channel. Check out their entertaining Hello Puppets gameplay below:
How to Download and Play Hello Puppets: Midnight Show Demo for free
The game is scheduled for the end of 2021, but you already have the opportunity to play a free demo that has been released on Steam. If you want to download free Hello Puppets: Midnight Show you just have to follow these instructions:
Click on the "PLAY NOW" button at the top left of this post.
Wait for the link to the Steam website to load.
Click the "Download" button in the "Play Demo Now" section (see screenshot below). You must previously have Steam installed on your PC (free here).
Run the game on Steam.
Follow the on-screen instructions.
Enjoy the game!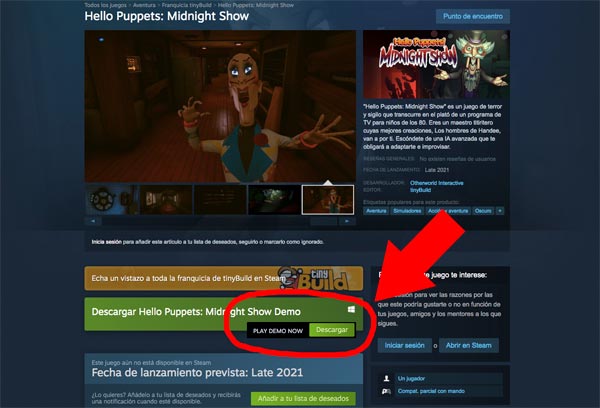 (Alternative download here):
Technical Requirements to Play Ultra Custom Night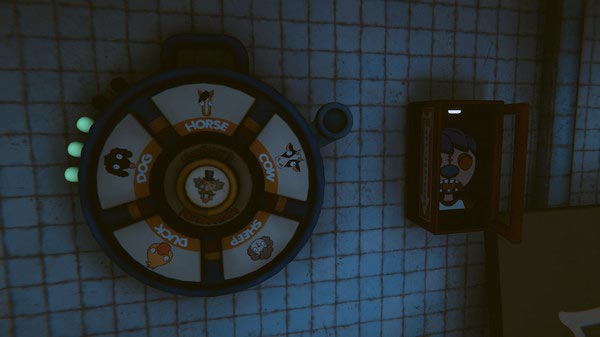 OS: Windows 10 (64 bit)
CPU: Intel i5-4590, AMD Ryzen 5 1500X or superior.
Graphics: Nvidia GTX 960, AMD Radeon R9 290 or superior.
If you liked the game, you might be interested in other similar Horror Games like: Impostor Hide, Phasmophobia, Hello Neighbor 2 (Alpha), Start Survey?, Piggy Roblox, Ultra Custom Night, Ice Scream or Mr. Hopp's Playhouse.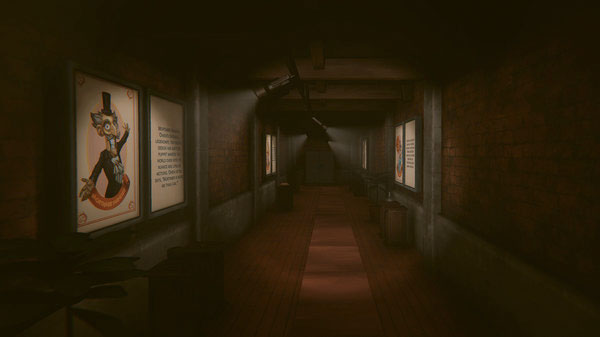 Hello Puppets: Midnight Show is the latest from TinyBuild, the American video game studio, author of other hits. You can find more information on their discord or twitter.