ULTIMATE CUSTOM NIGHT (FNAF)

GAME INFO
Ultimate Custom Night ™ is the new FNAF game of Scott Cawthon... with more than 50 killer animatronics!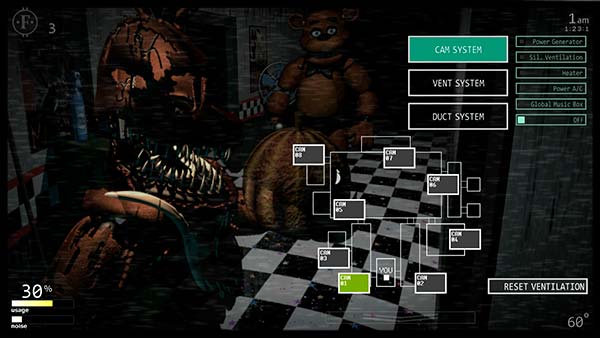 Ultimate Custom Night is the latest installment of the horror games franchise created by Scott Cawthon Five Nights at Freddy's (or more known as FNAF). According to its creator, this may be the last game that you create in solo, because the next will be in collaboration with some great study.
In this new nightmare, you'll be able to find all the animatronics that have appeared in the 7 previous games... up to 50 simultaneous and selectable! With endless possibilities to choose the difficulty custom... do you dare to select the 50 characters murderers and to discover the madness of massive attacks?
As in the original installment, you'll have to survive 5 nights of terror as a night watchman. Sitting in your office, you'll have to watch the security cameras from the local to anticipate and avoid attacks by the animatronics, control the power, temperature, doors, and air lines that lead directly to your office... Are you prepared to survive?
Gameplay
The famous spanish YouTuber Bersgamer (with more than 4 million subscribers on his channel and one of the most followed on the subject of video games) has already performed a gameplay of Ultimate Custom Night. Below, you can see his video "So is the new Five Nights at Freddy's":
The game has been long awaited by fans of the saga, and Scott Cawthon has returned to surprise everyone with this new game of FNAF, that promises not leave anyone indifferent (see official trailer).
To learn more about the latest news and updates, the Ultimate Custom Night, you can visit the official website of the creator Scott Cawthon, your twitter, tumblr or YouTube channel.
How to download and play for free to Ultimate Custom Night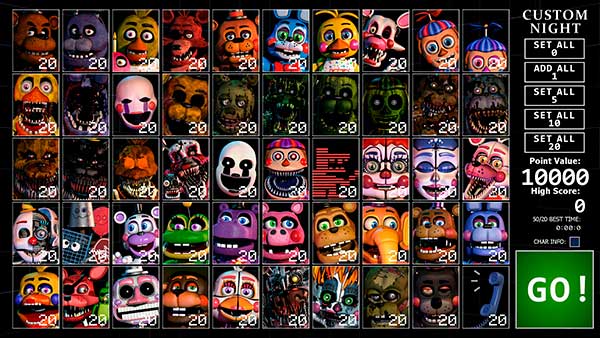 The launch of Ultimate Custom Night is June 29, 2018, in the well-known portal video game Steam, with a completely free version (Free to Play).
For free download Ultimate Custom Night follow these simple steps:
Click "PLAY NOW" located in the top left of this website.
will take you to the official link to download the game on Steam. (Previously you must have installed Steam on your PC).
Follow the installation instructions and... enjoy!
Alternative link:
Technical Requirements recommended
As usual, to play on this new FNAF, you will not need a very powerful machine:
OS: Windows XP / 7 / 8 / 10
Processor: Intel Pentium 4 or AMD Athlon processor, 2 GHz
RAM: 2 Gb
VRAM: 1 Gb
Disk Space: 1 Gb free
If you liked this game maybe you are interested in other Five Nights at Freddy's Games or Terror Games from our collection: Eddie And The Misfits, FNAF AR: Special Delivery, Hello Neighbor, Bendy And The Ink Machine, Baldi's Basics Simulator, Granny (PC game) or Freddy Fazzbear''s Pizzzeria Simulator (FNAF 6).