FREDDY FAZBEAR'S PIZZERIA SIMULATOR (FNAF 6)

GAME INFO
Freddy Fazbear's Pizzeria Simulator ™ (The new FNAF 6?) is the new game of the saga of fear and Terror of Scott Cawthon... which is not what it looks like!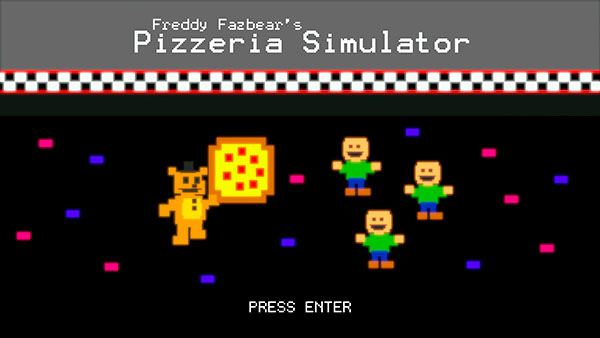 Freddy Fazbear's Pizzeria Simulator (or better known as FNAF 6) is the latest game in the Saga of terror created by Scott Cawthon and based on the sinister pizzeria plagued by animatronic assassins. After the announcement of the cancellation of Five nights at Freddy 6, its creator has released this game that can be downloaded for free on Steam and by surprise. Many are already commenting that what looks like an innocent and simple game, actually hides the real FNAF 6.
Get ready to build your own pizzeria with this 2d graphics simulator, the retro 8-bit style. Several mini-games await you, where you must design and prepare your pizzas, to turn your business into the best pizzeria in the whole city... but a moment will there be anything else?... discover it yourself!
Gameplay
The YouTuber
Jacksepticeye
(with about 17 million of subscribers in its channel) is already making its always interesting videos on the game. Then you can watch his video "
ARE YOU SCARED? | Freddy Fazbear's Pizzeria Simulator
"
:
(update 07/12/2017): According to gamers who are already completing the game, it seems that depending on what you do there may be a good ending and a bad ending for Five nights at Freddys 6.
How to download and play for free Freddy Fazbear's Pizzeria Simulator
The game has been released on December 4, 2017, by surprise and almost without prior notice... completely FREE! Scott Cawthon has again surprised everyone with this new game of FNAF and is going to give a lot to talk about.
To download Freddy Fazzbear's Pizzeria Simulator follow these simple steps:
Click on the "Play Now" button located at the top left of the same web.

You will access the official link to download the game on Steam.

Follow the installation instructions and... enjoy!
Recommended minimum Technical requirements
Operating system: Windows XP/7/8/Vista/10

Processor: Intel Pentium 4 or AMD Athlon 2 GHz or equivalent

RAM: 2GB

Disk space: 1GB