TRY TO FALL ASLEEP

GAME INFO
Try To Fall Asleep ™ is the terror and adventure game in which... you will get to sleep to recover your memories!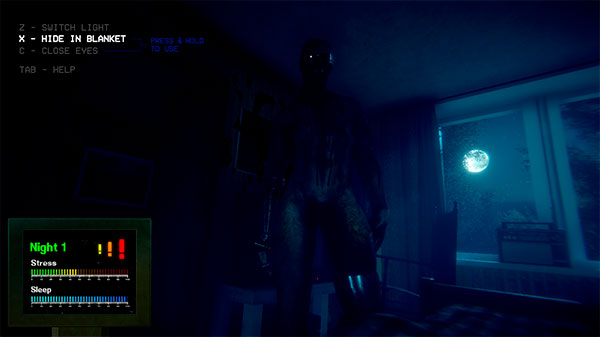 Try to fall Asleep is an original terror game in which you'll be John Herrin, a man who has lost his memory after a terrible accident. The brain injuries were very severe, and it will make you suffer hallucinations that do not let you distinguish what is real and what is not. The only way to recover your memories will be in your dreams, but go to bed... it will not be so easy!
Your dreams will help you a project to retrieve your memory and resolution of the secrets of the sinister Revivel laboratory (where you used to work), as well as has to know the cause of your accident. You'll need to keep calm and your stress level to be able to sleep. If your stress level soars, you will suffer a heart attack, you die and the game will end, so... let's Sleep!
This original game, indie horror, has been developed by AmberDrop, a developer of independent Latvia (see official twitter of the game). the Try to fall Asleep is not leaving indifferent any player, due to its dark atmosphere and gruesome psychological thriller. The famous youtube user PewDiePie (owner of one of the channels with the most followers in the world, with more than 62 million subscribers), has made it game game:
How to download Try to Fall Asleep
™
The game has been independently created and launched in several specialized portals, such as Itching.io, Gamejolt, indieDB or Steam. If you want to play for free Try to Fall Asleep continues with these simple steps:
Click "PLAY NOW" located in the top left of this post.
Wait for it to load the official website of the game at Itch.io.
Click "Free Download".
In the next step, you will be asked to indicate an amount as donation. If you do not want to donate anything: Click on the option "No, thanks, go to downloads".
Download the official game.
Follow the instructions on the screen and... play!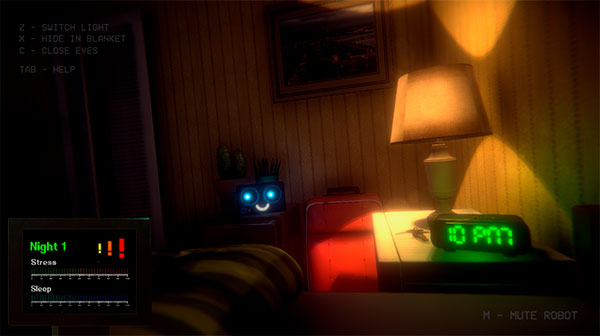 Technical Requirements for playing Try to Fall Asleep
™
OS: Windows 7-10
Processor: Quad-core
RAM: 4 GB
VRAM (graphics): 2 GB
Space: 2 GB of free space
If you liked the game, maybe you are interested in other Terror Games or Adventure games similar as: 3 AM At The Krusty Krab, Bendy And The Ink Machine, Hello Neighbor, Stray or Freddy Fazzbear's Pizzeria Simulator (FNAF 6).