3 AM AT THE KRUSTY KRAB

GAME INFO
3 AM at The Krusty Krab ™ is a terror and adventure game ... escape from Krusty Krab!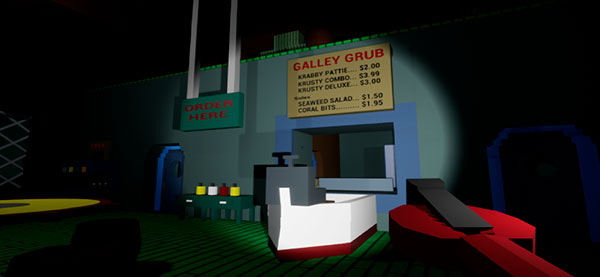 3 AM at the Krusty Krab is an indie game of terror in which the greedy Mr. Krabs, from the popular animated television series Spongebob Squarepants, has gone to a spend the night at his successful restaurant (The Krusty Krab) to count all money collected.
But what I never imagined is that just that the night of the Tuesday, at 3 am, I was going to do appearance of... get The Hash Slinging Slasher to revenge! The most well-known YouTubers, such as Markiplier (more than 19 million followers) or Jacsepticeye (18 million followers) are commenting on a lot of the game with interesting gameplays... you survive a nightmare!
The creator of 3 AM at The Krusty Krab is Dave Microwave Games an independent an anonymous developer. You can see the entertaining game on this addictive game that emulates the success of Bendy And The Ink Machine, and who performed Markiplier in our crazy video:
How to download and play for free
3 AM at The Krusty Krab ™
The game (see official twitter page of his creator) has been released in the portal of indie video games itch.io and Gamejolt (see here) with a free version. If you want to play:
Click on the button "PLAY NOW" button at the top left of this post.
Wait for it to load the official link of the game in itch.io
Click "Download" (there is an option to indicate a dollar amount to make a donation to the creator of the game, but it is not mandatory).
Click "No thanks, go to downloads".
Choose the 32-Bit version (187 Mb) or 64-bit (210 Mb), depending on your version of Windows.
once the file is downloaded, follow the installation instructions.
Technical Requirements
OS: Windows (32-Bit or 64-Bit)
If you liked the game, maybe you are interested in other Terror games as: Bendy And The Dark Revival, Skibidi Toilet Game, Showdown Bandit Game, Baldi's Basics Field Trip: Camping or Hello Neighbor and Adventure games as: Deltarune Chapter 2, Minecraft Dungeons, The Convenience Store (Horror Game) or Kerbal Space Program.