BALDINA'S BASICS IN EDUCATION LITERARY GRAMMAR

GAME INFO
Baldina's Basics in Education Literary Grammar is a game that emulates the success of the viral survival horror game... now with the wife of Baldi's!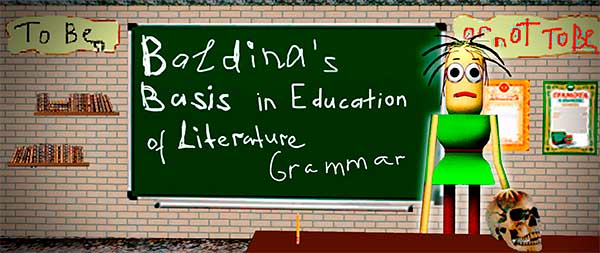 Baldina's Basics is an addictive game of fear that you will face the wife of Baldi (Baldi's Basics game). Do you like books? do you read much? as the teacher of literature and grammar of the institute (called Baldina) will do that you like, for the good or for the bad. Don't you defraud, because otherwise... you're finished!
Get Ready to live a nightmare in which you will have to walk around the school to find 8 notes for compose a poem. You'll need to order each and every single note to be able to recite in front of the psychopath teacher, without fail, a rhyme. To find the notes it will not be easy, because there are many characters who will try by all means not to fulfill your mission (the director, the student bully, etc)... how can you Escape?
This game is so strange and with an aesthetic as unique as the original game. the Baldina's Basics has been developed by a creator of indie anonymous (view your profile on Gamejolt or Facebook page for more information and updates). The famous YouTuber DanTDM (with more than 20 million subscribers and one of the most influential in the theme of video games), has made a fun gameplay of the game and that you can see below:
How to download free Baldina's Basics
The game has been developed independently and in various platforms of indie games, such as the well-known Gamejolt, itch.io or Slide DB. If you want to play free Baldina's Basics continues with these simple steps:
Click "PLAY NOW" located in the top left of this post.
Wait for it to load the official website of the game at Itch.io.
Click "Download Now".
In the next step, you will be asked to indicate an amount as donation. If you do not want to donate anything: Click on the option "No thanks, go to downloads".
Download the official game.
Follow the instructions on the screen and... game on!
(Alternative link to download on Slide DB):
Download Link of the game in the portal indieDB: https://www.indiedb.com/games/baldinas-basis-in-education-literary-grammar
It has also released the game for mobile devices, in the Apple App Store (download for iOS) and Google Play (download for Android).
Controls
W-A-S-D: move character by the school
Mouse: to move (rotate), catch elements (click left button), use item (click right button and change item (spinning wheel)
Shift: run
spacebar: look back quickly
Esc: pause game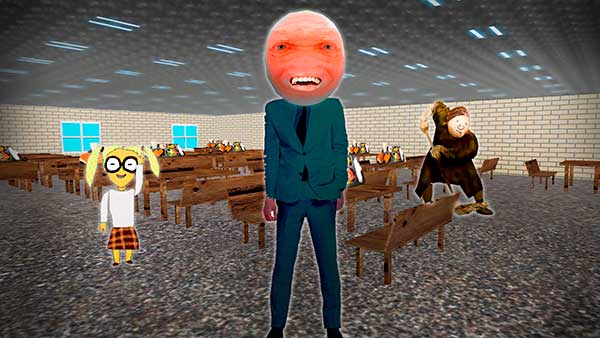 Technical Requirements to play Baldina's Basics
Operating System: Windows or Mac
disk Space: 31 MB / 33 MB (Windows / Mac) free space
If you liked the game, maybe you are interested in other Terror Games similar as: Troll Face Quest Horror, MOMO (The game of Whatsapp), Visage, 6 AM At The Chum Bucket, Doki Doki Literature Club!, Granny, Hello Neighbor Hide and Seek or Bendy And The Ink Machine.