DONUT COUNTY

GAME INFO
Donut County © is a crazy puzzle game in... you will create holes that will absorb everything! (Full analysis)



Donut County is a puzzle game as crazy as it is fun. Created by the independent developer of video games Ben Esposito in a gamejam, and taking as a idea to the tweets of another user, in addition to being clearly inspired by the Katamari saga... It's crazy that it promises!
The story unfolds in a city (Donut County) controlled by raccoons who run a donut shop to home. You'll be the raccoon named BK) and each time a customer makes an order, you will create a hole in the ground that engullirá all. At first the hole will be small and will absorb small things, but the more things fall into it, the bigger it will become.
Raccoons love garbage and that is what they are doing, stealing all of the garbage of humans, including their homes, cars, and... it themselves! With this original game you will discover the relationship of people with their things, objects, vehicles with a narrative plot that will surprise you in every level.
You'll have to be alert so that the hole does not enthrall yourself and you might end up to 999 meters of depth with a multitude of inhabitants of the city that you will be asked for explanations. Jokes and other riddles will make you laugh time and time again, while the game hides you a message with irony: why we generate so much trash?
Donut County was published by Annapurna Interactive, an independent production company Los Angeles (USA). You can know more about the game, news and updates in your official website.
Review of Donut County (Gameplay)
The well known YouTuber, british DanTDM (close to 20 million subscribers on his channel and one of the most influential on the subject of video games in English), has made a complete gameplay of the game, with his video "I'm a hole!":
How to download free Donut County - PC
The game has been released in the portal Steam, in addition to versions for iOS and Mac, a version of payment. Unfortunately not available in demo version, alpha or beta for free, but you can play a version free download a game called Hole.io they say is a cheap copy of Donut County but who has achieved the top positions in the App Store of iOS and Play Store of Android.
If you want to play free continues with these simple steps:
Click "PLAY NOW" located in the top left of this post.
Wait for it to load the official website of the game.
enter your name (anything you want).
Click "Play".
Expected to have access and let's play!
(Link-alternate access here).
Controls
Mouse: control the movement of the hole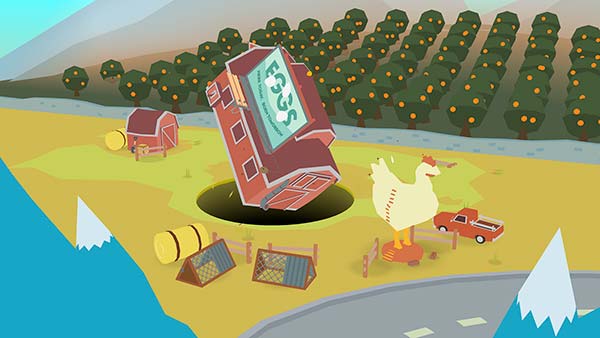 Technical Requirements to play Donut County
OS: Windows 10 (64-bit)
Processor: Intel Core i3 4170
RAM: 4 GB
Graphics Card: Nvidia GeForce GT 640
DirectX: V. 11
Disk Space: 1 GB
If you enjoyed the game, maybe you like other Mental Challenge games in our collection, such as: Gartic Phone, Scribble It!, Inch by Inch, The Pedestrian, Will You Press The Button, What The Golf? or Jum Out The Box: Computer.