PAPA LOUIE 2

GAME INFO
The new adventures of the most famous chef with Papa Louie 2 - When Burgers Attack!

In Papa Louie 2: When Burgers Attack! two crazy villains, a sinister radish of bulging eyes and an evil onion have kidnapped the biggest and most favorite chef who has been able to exist in the city... Papa Louie! It all depends on you, and dozens of loyal customers to rescue him sinister and monstrous mutants burgers.
This is the long awaited sequel of the popular game Papa Louie: When Pizzas Attack! Rita and Marty are working on Papa's Burgeria when a day of routine becomes a nightmare: an odd interdimensional portal opens in the middle of the burger. Radley Madish, Sarge and a vast legion of Burgerzillas terrorize the Burger, kidnapping Papa Louie and their loyal customers. It all depends on Marty and Rita to rescue customers and find your favorite boss, Papa Louie.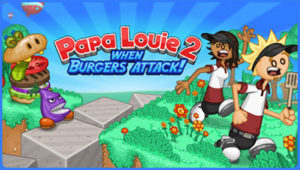 In this delirious Adventure platform Arcade-style's, travels to the strange land of Munchmore where you have to run, jump and fight to advance your way through an army of fierce food. Rescue Papa Louie customers throughout the game and thus build an unstoppable team. Each released client becomes a playable character with their own unique weapons. Some customers have special abilities that allow you to reach new areas, rescue more customers, and Warp Keys to win. Quick, hurry because Papa Louie needs your help!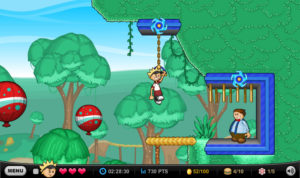 More than 9 scenarios to explore
28 customers to unlock playable
6 special abilities of clients
6 challenges unique to each level
Use coins to buy new clothes for your customers
48 logos only to earn while you play
More than 30 crazy villains
epic 2 battles
Play free online!
How to play Papa Louie 2: When Burgers Attack!
?
Controls
right arrow key / left = walk
arrow key up = jump, hold for big jump
arrow key down = slide down the Hill to eliminate enemies
SPACEBAR = attack