COOKIE CLICKER

GAME INFO
COOKIE CLIKER Online is the Strategy and Cookie Baking Game… most Addictive on the Internet!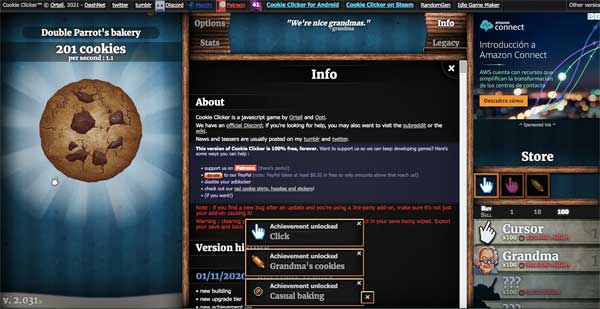 Cookie Clicker was released more than 8 years ago but it has been a cult game since then, in addition to one of the most addictive strategy games and that today has taken relevance, with an average of 4 million players a day, thanks to its new version for Steam, with data saved in the cloud and music from C418 (known for his work in Minecraft).
In this article we will analyze everything about this game that is again current and how you can play it online in your browser (no download)… all the details below!
In this game our goal will be something as simple as baking cookies (cookies with chocolate nuggets, to be more precise): as many as we can.
And how are cookies baked? you just have to click on a giant cookie on the screen, as fast as you can to accumulate more cookies (the game currency), which are redeemable for improvements and additional sections within the game (minigames).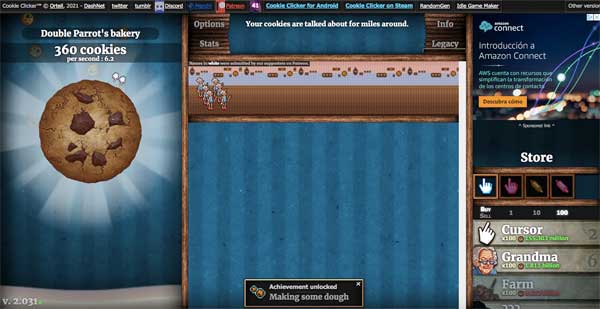 Clicking on the cookie may seem simple but that will affect your hand (carpal tunnel) so you will need help from tender grannies, buy upgrades in the store or even open unknown dimensional portals… that crazy!
If you manage to bake the most absurd amount of cookies it will also depend on the strategy you decide and the improvements you choose to buy and invest your money well.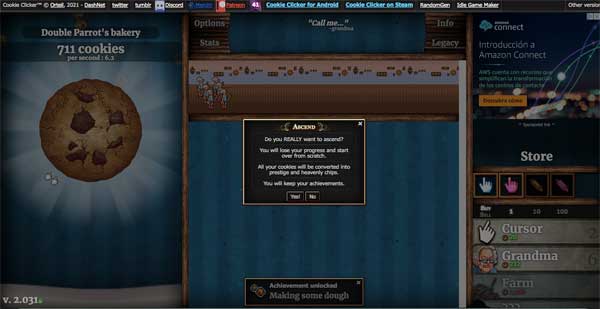 The browser version has existed since 2013 but has been receiving updates over time (an average of 2 per year), but its developers have recently released a version for Steam, with a number of improvements:
More than 600 new products
500 New Achievements
New minigames
Save your score in the cloud
Soundtrack composed by the famous C418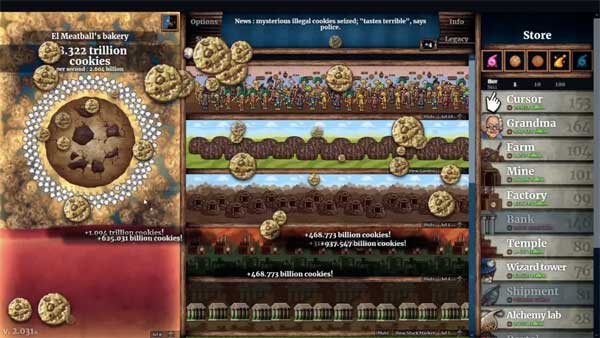 In conclusion, Cookie Clicker is a crazy game, considered one of the most addictive of the moment, where to make more cookies you will have to manage however… ready to play?
COOKIE CLICKER Gameplay
We leave you with the video of the gameplay of the well-known Bijuu Mike (YouTuber with more than 3 million subscribers in his video game channel):
How to download and play COOKIE CLICKER for free Online
The game was released in 2013, in a free version for browsers, but this year 2021 versions have been released for PC (on Steam) and for smartphones (Android). If you want to play Cookie Clicker Online for free (browser version, without downloading anything) follow these steps:
Click on the "PLAY NOW" button at the top left of this post.
Wait for the link to the official website of Cookie Clicker to load.
Click on the link of the image or the text below, which will direct you to the official website (a new tab will open in your browser).
Follow the on-screen game instructions.
Enjoy the game!
Technical Requirements to play Cookie Clicker
OS: Windows 8.
CPU: Intel Atom de 1,6GHz (or higher).
RAM: 512MB.
Disk space: 350MB.
If you liked the game, you may be interested in other Strategy Games from our collection such as: Death And Taxes, Eat The Rich, Papa's Scooperia HD, Octogeddon or Plants Vs Zombies.
Cookie Clicker is a standalone game developed by Orteil, an original French programmer who likes to make games with javascript and Dashnet. For more information about the game and the work of its creator, you can check their Discord or twitter.
You can buy the new version of Cookie Clicker on Steam here.