PAPA'S BURGERIA

GAME INFO
With Papa's Burgeria you can produce the best burgers of Papa Louie

Second installment of the kitchen Simulator set in the world of the hit game Papa Louie. this time we cook burgers in the Pope completo Burgeria! kitchen, assemble and serves burgers to all your crazy customers! If in the Papa's Pizzeria are pizzas, then, naturally, in the Pope completo Burgeria will be served burgers.
However, in the new Papa Louie Burger is to serve no delicious Burger or custom Burger, and gives the chance that customers are very demanding. You will have to retain customers by developing burgers customized to the tastes of each.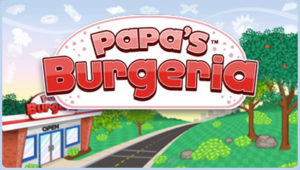 In this frantic sequel of the game Papa's Pizzeria, will have to play as Marty or Rita in cooking, processing, and delivery of hamburgers craziest city. You will have to work hard and become a master of hamburgers. As a novelty in this new game of Papa Louie find the shop update, where you can buy furniture, posters, and kitchen utensils to prepare better and richer place burgers.
Become a master learning to develop the best recipe for hamburger: takes note of the request and selects the best ingredients between cheese, onion, lettuce, tomato, pickle,... dominates Burger doneness, put sauces (ketchup, mustard, barbecue,...), the garrison and... no disappointments to the Pope completo Burgeria customers!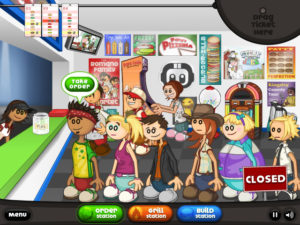 Burger bar Simulator inspired by the universe of Papa Louie
over 40 customers unique to unlock
each customer has a preference of favorite Burger
multi-tasking between the Grill Mount Burger, and serving
get logos of gold, silver or bronze for each client
ranking of maximum scores
game modes unlimited
How to play Papa's Burgeria
?
Controls
Mouse: (follow tutorial inside the game)