Papa's Freezeria

GAME INFO
With Papa's Freezeria produces rich ice cream in new ice cream shop of Papa Louie
Fight the heat of the summer with the Papa's Freezeria! The new business of the series Papa Louie, who now dares to open an ice cream parlor. After the successful games Papa's Pizzeria, Papa completo Burgeria and dad completo Taco Mia! comes this fourth installment based on the delusional and addictive world of Papa Louie.
just landed in the typical summer job, but in the amazing tropical island of Calypso. The gelato Papa's Freezeria oceanfront seems a relaxing way to spend the summer... maybe not! Papa Louie goes back to live one of their adventures and will leave you in charge of your new business during the high season, so get ready to receive a wave of tourists hungry for ice cream. Customers reach by boat the Calypso island in search of the best ice creams in the world... and Papa Louie hopes a new success in this business.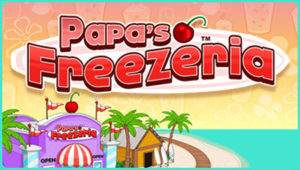 During the game you will have dozens of syrups, candies and toppings (coverage) will be unlocked as you can to advance in the game. In addition to former customers of previous deliveries attend ice cream shop a variety of new customers looking for the best ice cream to combat the heat.
Each client will ask for a personalized ice cream so the time management and strategy in the game will be key, with new challenges related to the mix of ingredients and serve the right amounts of ingredients in each cup of ice cream. As in the previous delivery Pope completo Taco Mia!... Estate alert because before closing may be typical annoying customers in any time can receive the visit of a food critic!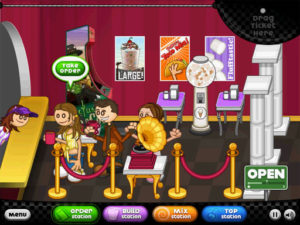 As your work on the Papa's Freezeria award will receive weekly paychecks, updates, and 80 badges you can earn throughout the game while you serve ice cream. As news of this latest installment of the series Papa Louie, you can configure the ice cream shop with over 100 decorations that can be purchased at the furniture store, you can add elements that will facilitate your work and attract customers, something that will affect your score in the game. You can decorate as you like the lobby, customize the ice cream completely with posters, furniture, add shelves and put coffee Jukebox... and much more!
Ice cream parlor set in the saga of Papa Louie Simulator
Multiple forms of preparation of ice cream
Wide variety of ingredients, syrups and toppings
More than 50 customers to meet
Challenging clients who come about to close and return of the food critic
80 achievements in the game to win
Fully customizable, with over 100 items to buy ice-cream
Weekly paychecks and plans to level up
Game free online!
How to play Papa's Freezeria
?
Mouse: (follow tutorial inside the game)