PAPA'S WINGERIA

GAME INFO
In Papa's Wingeria ™ dare to produce the best custom tasty fried chicken recipes

Sixth installment of the successful series of cooking simulation games and fast food from Papa Louie management. In this crazy adventure you will be load of the last deal of Papa Louie: the Papa's Wingeria, where they make the best chicken wings fried more tasty and famous city!
It must be your lucky day because you just win a trip with all expenses paid to Starlight City, the world capital of the game! But the thing does not end there, after a long bus trip, you walk into a casino and playing a coin in a slot machine getting the jackpot! You are now the proud owner of Papa Louie, the Papa's Wingeria newest restaurant. The only problem is that it requires much work and... I hope you like the nightshift!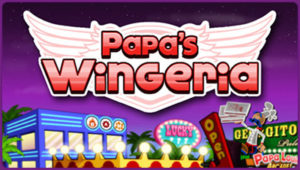 Welcome to the Papa's Wingeria, the latest cooking Papa Louie game. As in previous installments you will have to keep your clients happy and demanding while making orders for tons of tasty chicken wings and rich linings with custom orders. Takes note of the orders, mastered the art of frying handling fryers, sauces, and place on a tray with the fittings and accompaniments...
As a novelty, this time you can Customize to restaurant workers, can be designed completely to your character in an endless number of options such as: tone skin, height, facial features, posture, hairstyle and hair color... adapt it to yourself. You can also win a variety of clothes and accessories for your character through clothing store and mini-games including awards. The possibilities are endless!
Simulator of kitchen and restaurant based on the saga Papa Louie
Characters fully configurable with tons of clothes to win
Organization of frying, sauces and Mount bashguard
Ability to unlock a large variety of meats, sauces,...
More than 70 customers only to meet
7 fun mini games with 98-prizes to win
80 achievements in the game to win
restaurant totally customizable, with close to 100 items to buy
weekly paychecks and possibility to level up
Play free online to Pope completo Wingeria!
How to play Papa's Wingeria
?
Controls
Mouse: (Follow instructions inside the game)