PAPA's CHEESERIA

GAME INFO
With Papa's Cheeseria ™ you will enjoy the melted cheese sandwich
This game is the tenth installment of the successful and addictive series of cooking simulation games and restaurant management of Papa Louie. Papa Louie starts a new business in fast food: The Papa's Cheeseria ™, with delicious sandwiches with tons of melted cheese and grilled barbecue. If you are a lover of molten cheese ... this game will make your mouth water! As always ... we recommend not to play with hunger!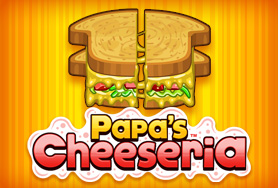 Papa's Cheeseria is preparing its inauguration with a party tonight, with the energetic band Scarlett and the Shakers! Unfortunately, all of his music equipment has been stolen at the last minute and the show has been cancelled with all the pain of Papa Louie. All the stolen musical equipment is going to need a lot of money to be able to replace it. The good thing is that they have hired you to build gigantic grilled cheese sandwiches in the Papa's Cheeseria, which promises to be the best shop cheese Grill in the country.
You'll have to quickly take orders from the growing legion of loyal customers of Papa Louie. Prepare the recipes for the most delicious personalized sandwiches in the build station, using an incredible variety of breads, ingredients, and of course ... cheese! Cook the melted cheese and grill it perfectly on the griddle of the grill station.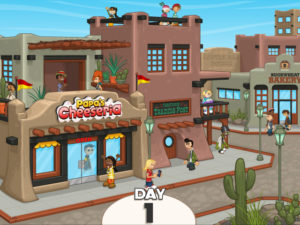 Would the client like French fries with his sandwich? Of course! So you'll have to cook fries quickly dominating the art of the fryer at the FRY station. Place the fries next to the grilled cheese on the griddle, add the ingredients selected by the customer to the potatoes. Finally send the finished order to the customer, do not disappoint!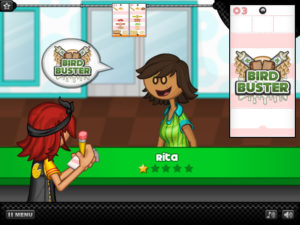 As a novelty in the series this game includes unique special recipes. Once obtained, you can use them for the specials of the day. Earn additional prizes for serving specials and for the mastery of each of the 40 special sandwich recipes! Caution: Do not play with hunger!
Make sandwiches with a lot of grilled cheese

Choice of an incredible variety of breads and cheeses

Fill the sandwiches with tons of ingredients

Cook the grilled cheeses to perfection and customer's favorite point

New Fry station for frying potatoes!

Domina 40 Unique Special recipes

Strategically choose the specials of the day

Possibility of hiring a waiter for the dining room

Personalization of both the chef and the waiter

Fully customizable restaurant lobby

Play through 4 seasons and 12 public holidays

Unlock seasonal Ingredients

Unlocks a total of 113 menu items

Unlock 96 loyal customers

7 Fun mini games with countless prizes to win

140 achievements in the game to win

Use your skill and strategy to buy upgrades, clothing and equipment

Weekly paychecks and ability to level up

Free to play on line, without any download!

Play Now!
How to play Papa's Cheeseria
Mouse: (Follow the tutorial inside the game)