PAPA's CUPCAKERIA

GAME INFO
Elaborates with Papa's Cupcakeria ™ personalized recipes of the best cupcakes
Papa's Cupcakeria is the seventh installment of the fun games of skill and cooking of the Papa Louie saga. After Papa's Pizzeria, Papa's Burgeria, Papa's Taco Mia!, Papa's Freezeria,Papa's wingeria, Papa's Hot Doggeria ... the new business of Papa Louie is ... the Papa's Cupcakeria. Have fun making the most delicious cupcakes so fashionable these days. Cook countless cupcakes for the loyal and extravagant customers of Papa Louie.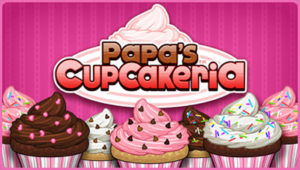 In this fun game, the Papa's Cupcakeria has just opened in the picturesque village of Frostfield and you have been hired to run the restaurant yourself. You will have to master the cupcake recipe to become a master of the Magdalena Handicraft.
Take your customers custom orders at the order station. Prepare the dough at the batter station. Cook the cupcakes perfectly at the bake station. Finally, it covers the cake with delicious decorations in the build station.
As you level up and build a loyal customer base, you will notice the seasonal changes around you. Celebrate the 12 holidays with special clothing, furniture, and special season topping or toppings. More than 100 menu items, 90 achievements, tons of furniture to equip the restaurant, more than 80 customers, and every day of celebrations you can imagine the most epic restaurant Papa Louie has ever opened!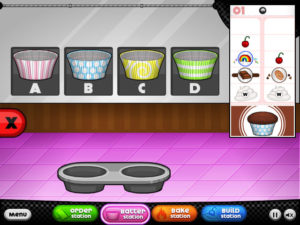 Making and cooking Papa Louie style

Pour the mixture, bake and make delicious cupcakes

Personalize your own character

Fully customizable Restaurant

News of stations and holidays

Play through 4 seasons and 12 holidays

Unlock season ingredients and toppings

Customers arriving at the last minute, almost at closing

110 unlockable Menu Items

possibility to unlock 81 crazy customers

New Customers

7 Fun mini games with many prizes to win

90 achievements in the game to win

Use your tips to buy upgrades, clothes and furniture

Weekly paychecks and ability to level up

Free online game to Papa's Cupcakeria!

Play Now!
How to play Papa's Cupcakeria?
Mouse (follow tutorial inside the game)