PAPA's DONUTERIA

GAME INFO
With Papa's Donuteria ™ elaborates rich donuts with this cooking simulator game
Papa Louie's New adventure, opening a donut shop: The Papa's Donuteria, where you will make the richest and sweetest Donuts recipes in the city. Ninth installment of the entertaining at the same as addictive restaurant simulators and cooking of the successful series of Papa Louie.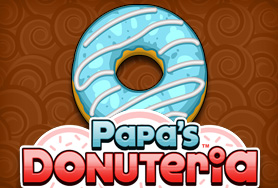 You just got a job at the Papa's Donuteria in the whimsical city of Powder point. No doubt the good salary and labor benefits are very attractive and encouraged you to change your life but ... unfortunately the Donuteria is not going to be a job as easy and simple as you thought. You will have to cook countless delicious donuts in a single day for the demanding and crazy customers of this carnival city. Make delicious personalized recipes to suit each customer: take note of the orders, make the donuts, cut the donuts, fry them and finally decóralos with an incredible variety of ingredients. You will need intelligence and strategy, at the same skill, to make the donuts to the taste of the customer ... encouragement, it is not easy! Don't disappoint Papa Louie!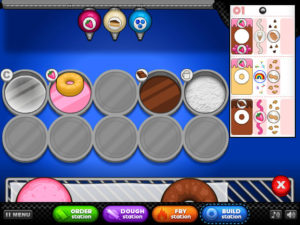 Cooking simulator and time management based on the Papa Louie saga

Donuts cut and Fry

Fill the donuts with jam and Sumérgelos on ice

Finish the donuts with a wide variety of ingredients

Hire a waiter for the dining room

Personalize both the chef and the waiter

New Clothes and hairstyles

Fully customizable Restaurant

Play through 4 seasons and 12 public holidays

Unlock seasonal Ingredients

Unlocks a total of 115 menu items

Unlock 90 demanding customers

7 Fun mini games with many prizes to win

110 achievements in the game to win

Use your skill and knowledge to buy upgrades, clothing and furniture

Weekly paychecks and ability to level up

Play online Papa's Donuteria totally free and unloaded!

Play Now!
How to play Papa's Donuteria?
Controls
Mouse: (follow tutorial inside the game)