PAPA's HOT DOGGERIA

GAME INFO
In this new game of Papa Louie cooks the best hot dog of the stadium with Papa's Hot Doggeria™
Sixth installment of the fun games of skill and cooking of the saga Papa Louie. After Papa's Pizzeria, Papa's Burgeria, Papa's Taco Mia!, Papa's Freezeria and's winger have fun free with Papa's Hot Doggeria! Elaborating the best and richest hot dog in the city. It's baseball game day at the Griller Stadium, but season tickets are all sold! It seems that the only way to see the game is to work for your old friend Papa Louie, selling his delicious hot dog to the hungry spectators.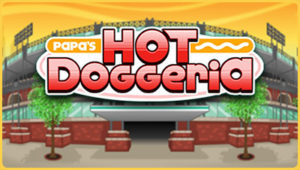 In Papa's Hot Doggeria you will need to dominate the art of the grill to get hot dogs (hotdogs or hot dog) juicy, the best, with a wide variety of condiments, to serve all the crowd of noisy fans. As usual customers are very poorly accustomed by the good of Papa Louie and ask you endless ways to customize the hot dog and you can not be wrong. Just in case you will have your hands busy serving fresh popcorn and serving a crazy amount of drinks for your hungry, demanding customers. Meet all the new characters, encourage your favorite team and even take part in the home Run Derby!
Hot Dog cooking and restaurant simulator based on the Papa Louie saga

New statistics

Decoration and equipment of the restaurant completely configurable

Beverage and Popcorn Service at the new Corn Pop station

More than 45 tasty ingredients

More than 75 unique customers to serve

100 achievements in the game to win

7 Fun Mini games with 98 prizes to win

Fully customizable character with new clothes available for purchase

Monthly paychecks and ability to level up

Play free online at Papa's Hot Doggeria!
How to play Papa's Hot Doggeria
Mouse: (follow instructions inside the game)