PAPA'S PANCAKERIA

GAME INFO
Papa's Pancakeria™: makes the best custom pancakes recipes

Fifth installment of the successful series of simulators kitchen and restaurant management set in the world of Papa Louie. After Papa's Pizzeria, Papa's Burgeria, Papa's Taco Mia! and Papa's Freezeria on this occasion Papa Louie has opened the Papa's Pancakeria, where they make the best and most famous pancakes place.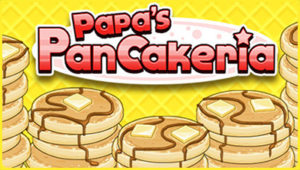 This time, after going to buy a pizza at the famous Papa's Pizzeria had the misfortune of losing your cat. After searching everywhere, you receive a call by surprise from Papa Louie, who found your pet and the Papa's Pancakeria has been caring for her in his latest restaurant.... You go in your car quickly to Maple Mountain where you finally find your beloved cat with a note that Papa Louie asks you as a thank you on their behalf during his absence... you take the command of the Papa's Pancakeria!
In this fun game scores with pancakes, waffles and toasted French bread with a variety of new and old customers in search of the best breakfast in the surrounding area. New management of time and skill in the game is the usual of game Papa Louie saga. New challenges related to the Assembly of the pancake, the Organization of ingredients and the dumping of syrups. Last-minute customers who arrive before closing, logos, and a lot of equipment for the Papa's Pancakeria furniture.
As a novelty in the series Papa Louie is the inclusion of games organized by the great Foodini! a trip is organized by the great Foodini! At the end of each day you will have access to a new mini-game, but attention: the great Foodini only accepts Special tickets earned during each game day. Each ticket will give you the opportunity of playing their daily game and chance to win unique prizes more than 95.
Another novelty in this game is a very special drink machine that can be unlocked and that will add to the growing challenge to juggle demanding and custom orders for customers. Fun with this entertaining game of kitchen and strategy making the best recipes for pancakes in the world!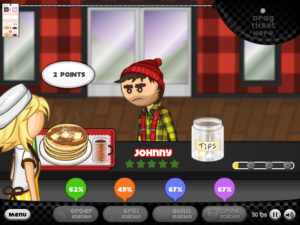 time management Simulator cooking set in the universe of Papa Louie
new mechanics of preparation of pancakes
possibility to unlock a variety of ingredients, syrups, fruit and much more
more than 50 customers only to meet
7 fun mini games with 98-prizes to win
80 achievements in the game to win
restaurant fully customizable, with about 100 articles to buy
weekly paychecks and possibility to level up
play free online!
How to play Papa's
Pancakeria
?
Controls
Mouse: (follow tutorial inside the game)