Papa's Taco Mia!

GAME INFO
Kitchen with Papa's Taco Mia! the best Mexican tacos with Papa Louie
Papa's Taco Mia! is the third installment of the successful series of simulators of kitchen of Papa Louie. In this new game what happens when an Italian chef opened a successful pizzeria and Burger? Now Papa Louie has proposed to develop one of the most popular Tex-Mex dishes: the biggest, the most rare and tasty Taco never seen before!
in this fun and entertaining game, after winning a competition to eat tacos, you delivered the keys of the Papa's Taco Mia! The new venture of Papa Louie... a Mexican taqueria! But attention: Papa's Pizzeria and Papa completo Burgeria favorite clients are back, and brought in addition to your friends. You will have to dominate the Mexican tacos recipe, but as always each client will ask you one customized to your tastes. Takes note of the ingredients and prepares the best recipe of tacos. It's pleasing the discerning and Jojo (the rigorous food critic) was pleased with the best taco Mexican in the world! As the novelty of this third installment of the game you can earn up to 60 badges during the execution of Papa's Taco Mia! getting achievements, including the use of certain ingredients, achieving high scores in every phase, serving to certain customers, and much more!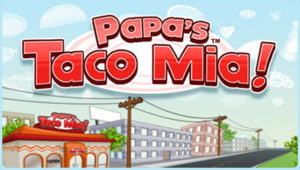 new toppings, meats and sauces unlockables
challenging clients, the most demanding, arrive just before close
weekly food critic JoJo visits
get good reviews to gain superior skills
60 achievements / badges to win while playing
further improvements in the shop to improve your grades
weekly wage redeemable by crashes
win improvements such as level up, and get more money badges
customers by ordering the fastest Win medals
new recipes from tacos
How to play Papa's Taco Mia!
?
Controls
Mouse: (follow tutorial inside the game)