PAPA's PIZZERIA

GAME INFO
Cook the best personalized Pizza in the world with Papa's Pizzeria

Papa's Pizzeria is the first kitchen Simulator set in the saga of the successful Papa Louie. This time the most famous pizza place has left Roy (his dealer and Assistant) at the controls of the business. Roy helps bring the pizza while Papa Louie is absent!
When Papa Louie has been running another of his crazy adventures, the boy of the deals is in charge of the reputed Papa's Pizzeria. Unfortunately for Roy, customers are accustomed to the style of preparation of Papa Louie pizzas... totally custom pizzas to taste! Whether it is a pizza with 8 pepperonis spread everywhere and 2 olives in the bottom half, or a pizza 10 rings of onion well cooked and cut into 4 portions,... never know what is going to happen in each order. So you will have to master to pizza 4 stations and work hard to be the best chef in pizza place! No disappointments to Papa Louie nor to their loyal customers, not bury business!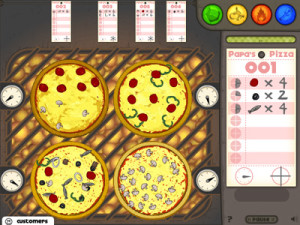 Pizzeria Simulator inspired by the universe Papa Louie
over 35 unique customers that you must earn
each client has an order of favorite pizza
multi-tasking between processing, bake and cutting of the pizza
logos of gold, silver and bronze each client
ranking of maximum scores
game modes unlimited
How to play Papa's Pizzeria
?
Controls
Mouse: (follow the tutorial)