PROJECT: PLAYTIME

GAME INFO
PROJECT: PLAYTIME is the new Poppy Playtime game… Free to Play and Multiplayer!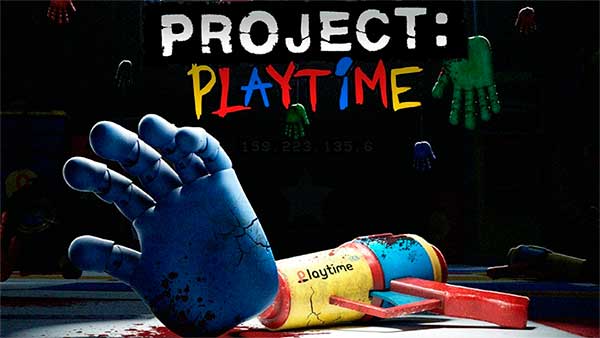 Project: Playtime is the new game from MOB Games, the creators of Poppy Playtime and one of the most successful horror games during this year and the end of the previous one.
The day of Halloween was presented by surprise on the twitter of the North American studio and there are still not many details will it be a spin-off? a continuation of Chapter 2 or 3 of the sinister toy factory game?… In this post we will tell you when, how you can play Project: Playtime online for free in multiplayer mode and where to download it:
According to its creators they have been developing this new game of Huggy Buggy and the other diabolical dolls for 6 months. It has been presented on October 31 from the official twitter account and without prior notice, so it has been a surprise for fans of the saga from all over the world.
The details that are known are very few yet and there is not even an official trailer. What there is is an enigmatic image in the tweet of his announcement and that has given rise to countless speculations and theories on social networks:
"Can you see this...? Give us a sign..."

We are thrilled to announce our next game... Project: Playtime, is coming to Steam this December. Project: Playtime is a free to play co-op horror experience, where you and your friends must try to survive the unspeakable horrors that... pic.twitter.com/vXdwA7Denr

— MOB Games (@mobgamesstudios) October 31, 2022
MOB Games has even encouraged to discover something more from the image and to decipher the hidden mystery. Indeed, there is something hidden in the image of the tweet: if the image is clarified with any photo editor, in the lower central part (under the title of Project Playtime) some numbers can be seen: 159.223.135.6.
Many have speculated that the numbers are actually coordinates. It's actually an address that on Google Maps takes you to the address of the MOB Games office, 757 Pine Street in Saint Louise, Missouri.
But that's not all and many content creators or streamers have received a letter from the MOB Games studio promoting this game. In the letter, dated July 15, 1991 (an important date, as we will see later), a worker from the Playtime Co. he turns to his mother and makes a request.
It is a desperate letter, where he tells her that he has bad news. He has to be away for a long time and maybe they will never see each other again. He asks his mother not to go looking for him, to stay away from the toy factory and an instruction - to put on his computer the numbers 159.223.135.6.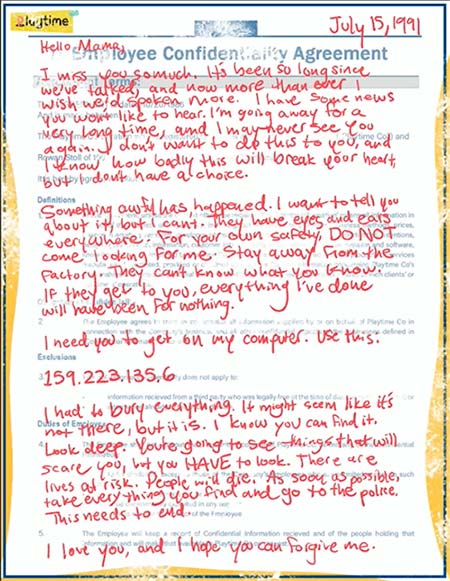 What does this card have to do with the game? the key lies in the date it is written on, which is the day the terrible events began at the Poppy Playtime game toy factory, with many workers missing and leading to the closure of Playtime Co.
Another clue of what the Project Playtime game will be like is in the presentation image of the game, with many GrabPack hanging from the ceiling and on the floor. Maybe the workers had to use them to defend themselves from some threat.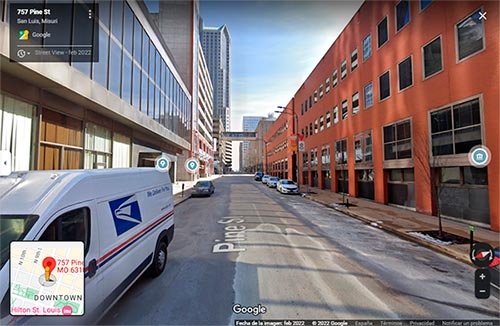 The only thing confirmed by the creators is that Project Playtime will be released next December, it will be a cooperative horror experience, to play online with other players as a team, trying to survive the nightmare that hides in the sinister factory of Playtime Co. In addition, it will be a free to play game!
Until its release we cannot expand more data, but what is for sure is that Project: Playtime promises adrenaline, scares and a collaborative gaming experience with friends that represents a challenge never seen before in a horror game… stay tuned for the next few weeks to play!
Project: Playtime Characters
At the moment, there are no announcements about the characters of the new Poppy Playtime game. There are theories that maybe the worker who sends a letter to his mother is one of the selectable characters, that there are the toys of chapter 1 and chapter 2 of Poppy Playtime (Huggy Wuggy, Kissy Missy, The Player, Boogie Bot, Sir Poop,…) or even new never-before-seen characters.
Official Teaser Trailer & PROJECT: PLAYTIME Multiplayer Gameplay
There is still no official trailer from MOB Games but some content creators are commenting on Project Playtime with theories, speculations and what this new game may hold for us. Below, you can watch the video of FusionZGamer, one of the streamers specialized in horror games with the most followers on YouTube:
How to download and play Poppy's New Game Playtime (PROJECT: PLAYTIME) for PC for free online
The interactive game Project Playtime will be released this coming December 2022 on Steam and until then you will not be able to download it for free (it is confirmed that it will be free-to-play), but while you can download and play the first title of the saga for free. To start the download, follow these instructions:
Click on the "PLAY NOW" button located at the top left of this very post.
Wait for the link to Steam to load.
Click on the green button "Install Game" (previously you must have Steam installed on your PC).
Follow the installation instructions. Enjoy the game!
Recommended Technical Requirements
At the moment we do not have data on the technical requirements, but we will publish them as soon as we have more official information.
If you liked the new Poppy Playtime game, you may be interested in other Horror and survival horror games from our selection: Broken Through, Andy's Apple Farm, The Baby in Yellow, Hello Neighbor, Five Nights at Freddy's: Security Breach or Boris and the Dark Survival.
Project: Playtime has been developed by MOB Games, an American studio based in Saint Louis and creators of Poppy Playtime. For more news, news and updates about the game, you can visit its official twitter.