HUMAN FALL FLAT

GAME INFO
HUMAN FALL FLAT ™ is the game in which you have to solve challenges, only with your intelligence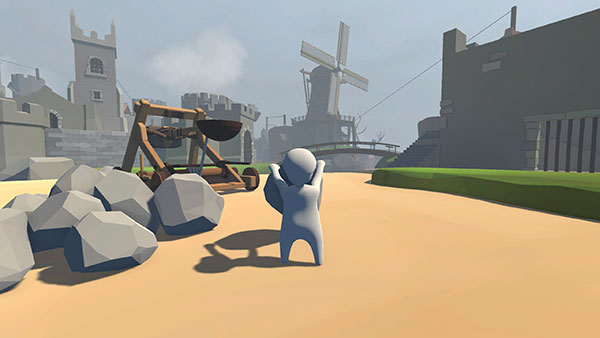 Human Fall Flat is a mental challenge and adventure game in which you will have to use your wit and skills to manage each challenge. Move for an open world where you'll have to escape every stage alive. It won't be easy, it won't be simple, you'll have to master realistic physics-based moves to get it.
The most influential YouTubers are already discovering the addition that this original game, including H2ODelirious (with almost 12 Million followers on their video channel > > > > see the Human Fall Flat gameplay here:
In this fun game... logos solve twisted mass puzzles without going into the abyss?
Human Fall Flat game has been created independently by No Brake Games. You can view the latest updates of the game on their official twitter.
Official Trailer
How to Downlaod and Play Free Human Fall Flat (PC)
The game was released on Steam in July 2016, but you can access an Alpha version of Human Fall Flat.
Update: you can now get the Alpha version free on the popular indie video game portal itch.io. To download for free Human Fall Flat, continue with the following steps:

Click on the button "PLAY NOW" button at the top left of this post.
Waiting for it to load the official link to itch.io.
Click on the button " Download on itch.io".
Download the file.
Unzip the file.
Follow the installation instructions and enjoy!
If you want, you can buy the final version of Human Fall Flat on Steam here.
If you liked this game you might be interested in other "mental challenge games" and "adventure games" from our collection: Suika Game, Hytale, Satisfactory (Alpha), PowerWash Simulator, Troll Face Quest Horror, Pico Park, Cuphead, Getting Over It (With Bennett Foddy), Astroneer or UNO Online.