RUMBLEVERSE

GAME INFO
RUMBLEVERSE is the new fighting game from Epic Games in the Battle Royale style… very Addictive and Free!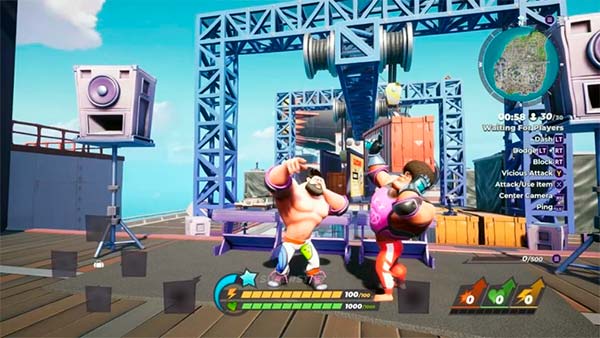 The latest sensation in fight games is Rumbleverse, where the fight and the almost infinite accessories to make your unique fighter make it a very special game for the coming months. Surely you have already heard about this title, because there are already a multitude of streamers from all over the transmitting crazy fights.
In this post we tell you more about Rumbleverse and how you can download free (official version). Are you ready to get started in hand-to-hand fighting? individually or in teams? Begin.
In the city of Grapital City is going to start the most important event of the year, the ultimate fighting competition, where the participants are… the neighbors themselves!
Get ready to fight and survive, in competitions of up to 40 simultaneous players and in which there can only be one winner.
The customization possibilities of your fighter are huge. Epic Games has allowed to introduce in this game countless accessories, weapons, clothes, masks, … and almost anything you can think of, to make your avatar unique.
But the customization elements can also determine the lethality of your character, so you will have to choose well (in addition to getting the necessary credit to be able to buy).
But not all skills are bought at the drop of a hat in this game, but you will have to practice (and a lot) to master the infinity of techniques, keys and blows available.
Returning to the differentiation of fighters, not all of them have the same characteristics, so some will be more powerful than others for depending on which blows… you'll have to find out!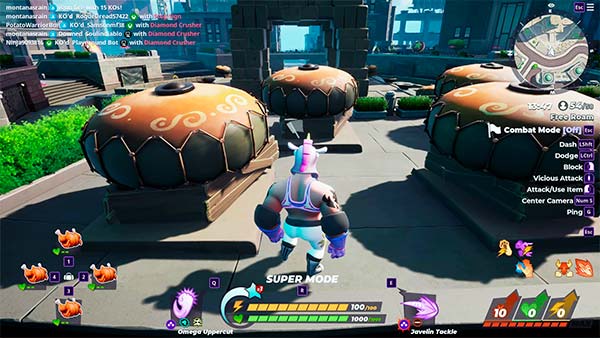 The introduction into the game reminds of other Battle Royale, but in this case it's much crazier - you will be thrown into the air towards somewhere in the Grapital City… from a cannon!
Once on the stage, get ready to fight through all kinds of maps, some more outlandish than others. You will have to jump between rooftops if necessary, but it will also be important to find the weapons that are hidden anywhere in the city.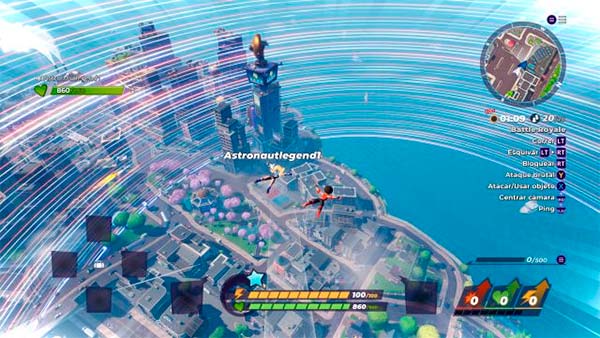 You will be able to fight with your fists, but you will also be able to tear off signs, trash cans and countless things that you find on the streets to use them as weapons.
In conclusion, our opinion about Rumbleverse is that we are facing a new Battle Royale formula, with game features that make it more fun compared to other games of this type. It is a title that can give a lot of play in the coming months… will you be the best professional wrestler in the city? check it out and keep reading.
List of Rumbleverse Special Moves
Fights 1v1
Level A: Javelin Tackle, Omega Uppercut, Super Sumoslap
Level B: Cozmo Shot, Great Izuna Drop, Diamond Crusher, Super Chokeslam, Superduper Kick
Level C: Giant Swing, Omega Cyclone, Skyrocket
Group Clash
Level A: Giant Swing, Omega Cyclone, Skyrocket
Level B: Great Izuna Drop, Javelin Tackle, Omega Uppercut, Super Chokeslam
Level C: Cozmo Shot, Diamond Crusher, Super Sumoslap, Superduper Kick
RUMBLEVERSE Gameplay
Rumbleverse is becoming a phenomenon on video game streaming platforms, such as the video uploaded by the popular content creator theRadBrad (more than 13 million followers on his YouTube channel):
How to download and play Free RUMBLEVERSE for PC
This game has been released in August 2022, on PC (Windows) from the Epic Games store and other platforms (PS4, PS5, Xbox One, Xbox Series X and Series S, GeForce Now). If you want, you can download Rumbleverse, official version, for free by following these simple instructions:
Click on the "PLAY NOW" button located at the top left of this same post.
Wait for the Rumbleverse link to the Epic Games website to load.
In the Epic Games store, click on the "Get" button.
Log in (with your Epic Games, Google, Facebook, ...)
Follow the instructions and download the game.
Enjoy the game!
Technical Requirements for the Fighting game Rumbleverse
OS: Windows 10 (64bit)
CPU: Intel Core i5 4570 or AMD Ryzen 3 1300X
RAM: 8GB
Graphics: NVIDIA GeForce GTX 660 Ti or AMD Radeon HD 7870
VRAM: 2GB
Available space: 7GB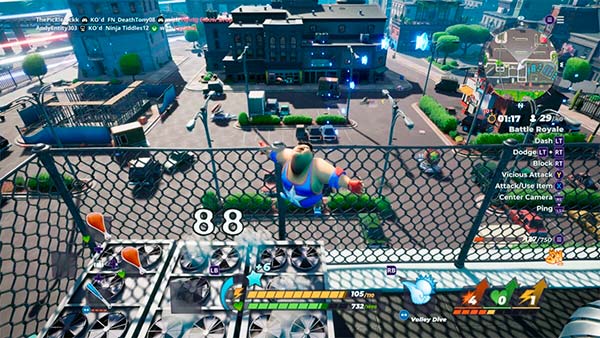 If you liked this game, you will find other Fight and Action Games as fun as Rumbleverse in our selection: Fall Guys, Fortnite, Fight of Animals, Realm Royale Paladins, Gorn or Paunch.
Rumbleverse is a game created by American studio Iron Galaxy and published by Epic Games, Inc. To check for news, updates or more information, you can visit their website, Facebook, Discord or Tiktok.