FIREWORKS MANIA

GAME INFO
Fireworks Mania is a fun fireworks Simulator Game… and destruction!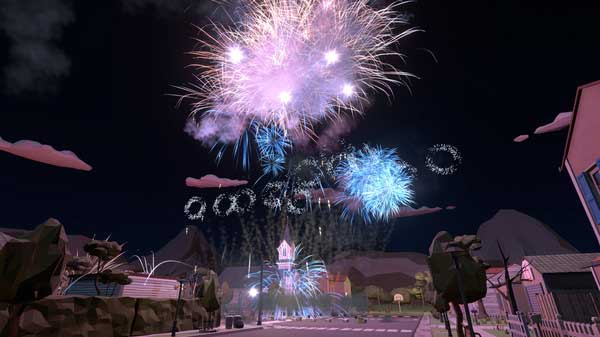 Fireworks Mania is one of the funniest action games of the moment, with which you can blow up your creativity and imagination by throwing fireworks… but without unleashing a disaster!
In this post we analyze all its features and even how you can download it to play for free (demo)… keep reading!
This simulator will delight lovers of rockets and pyrotechnics, because it is simply that-a fireworks simulator with which you will be able to create beautiful castles of lights.
Give free rein to your imagination by creating beautiful shows with which to leave your neighborhood with your mouth open(tip: watch that the police are not nearby).
You will have fun for hours, because no game in this game will be the same as the previous one. The movements of the Rockets is based on realistic physics.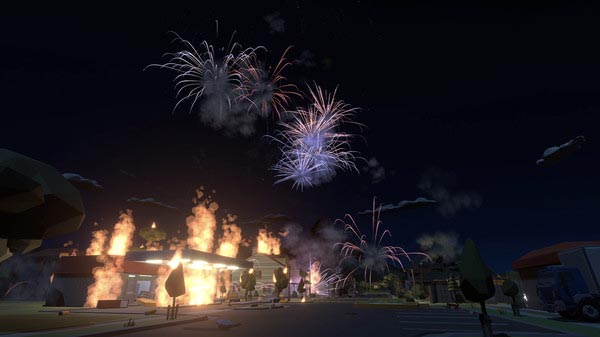 Throwing fireworks into the sky isn't just addictive… you can throw them against anything you want! including houses or cars!
You can unleash and create a chaos of explosions and lights, creating very funny situations, but be careful: do not set fire to the city.
Choose from countless types of firecrackers, flares, luminous bombs, rockets… and endless pyrotechnic items to combine as you like.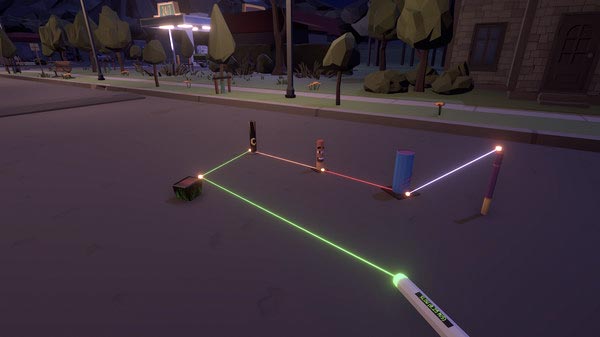 Place them strategically and light the wick, to create chain explosions. It will not be as easy as it seems, because the reaction can be very easily uncontrolled (you already know that it is dangerous to play with fire).
In short it is a very fun simulator, where you can not only create beautiful shows but also tragedies and that promises a lot of laughs (our recommendation: play with friends)… will you light the wick?
Fireworks Mania Gameplay
A game so fun and at the same time so unpredictable in explosions could not count without the crazy gameplay of Jacksepticeye (YouTuber with 27 million followers) and his video where he launches at the same time 1,000 rockets!:
How To Download Free Fireworks Mania (Demo)
The game has an official demo version published on Steam, which can be played for free as a trial (until release).
Update: since December 1, the game is no longer in a trial version on Steam or anywhere else, because it was released on the 17th (paid).
It is no longer possible to play Fireworks Mania for free, but you can play a very similar free fireworks simulator, just as fun and with the same concept (called Fireworks Desert Blast, where you are in the middle of the desert and with tons of pyrotechnics to throw). Just follow these steps to download for free:
Click on the "Play Now" button located at the top left of this same post.
Wait for it to load the link to the game page on Steam.
Click on the "Install Game" button (previously you must have Steam installed on your PC).
Follow the download and installation instructions.
Enjoy the game!
Fireworks Mania release date
Fireworks Mania was released on December 17, 2020, in PC (Windows) version.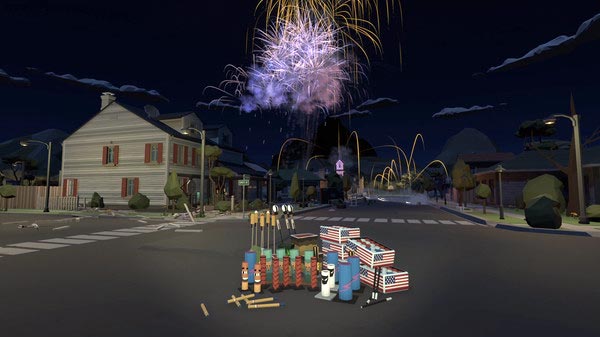 Technical Requirements
OS: Windows 10 (64 bit)
CPU: Intel Core i5
RAM: 8 GB
Graphics: Nvidia® GTX 970
DirectX: v. 11
Disk space: 2 GB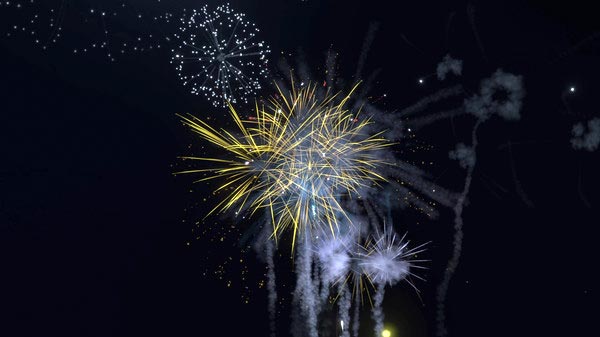 If you liked Fireworks Mania, you might be interested in other similar action games from our collection like: Surgeon Simulator 2, Kill It With Fire, Party Animals, Into The Flames, Viscera Cleanup Detail o Totally Reliable Delivery Service.
The game has been developed on Unity3D, independently, by a programmer from Denmark known as Laumania ApS. For more information and news, you can also consult his profile in itch.io.
You can buy Fireworks Mania on Steam here.