Papa Louie 3: When Sundaes Attack!

GAME INFO
Papa Louie 3: When Sundaes Attack! ™... prepare to rescue the best chef in the world, along with his loyal customers, in this crazy adventure and platform game
Third installment of the successful and fun saga of games. With this new platform adventure in Papa Louie 3: When Sundaes attack! Have fun with this free online game, without downloading anything. More than two dozen fans of Papa Louie's food customers embarked on a cruise aboard the S.S. Louie to celebrate the highly anticipated inauguration of the's Frezzeria. The celebration becomes a tragedy when the evil villain Radley Madish and his new henchman Luau LePunch take command of the ship.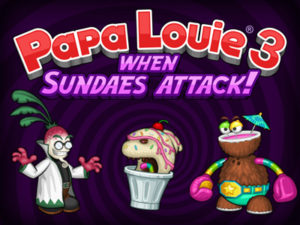 Using the warm coins, Radley and company will open a powerful interdimensional portal to launch Papa Louie and his loyal customers back to the land of Munchmore. There, they are imprisoned and held captive by a large army of Monstrusos Sundaesauruses (some abominable and sinister mutant ice creams) with the commands of the villain Radley. Both the good of Papa Louie and the rest of the captives are forced to work.
Meanwhile Cori, the only captain in charge of the S.S. Louie, will have to open his way through the inhospitable and savage lands of Muchmore, to fight the fierce, monstrous ice-creams, to rescue the passengers and crew captives. When customers are rescued, they join the fight as playable characters, each with their own weapon and unique abilities. Accept the challenge and save the famous chef and his clients with Papa Louie 3!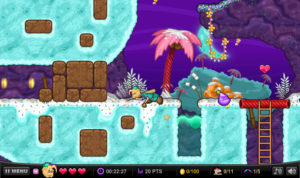 More than 9 game scenarios to explore

New underwater worlds to explore

28 Playable customers to unlock

19 Clients who make their debut in the Papa Louie saga

3 new customer skills to dominate

6 unique challenges in each level

Use coins to buy new clothes for your customers

36 New Villains

48 unique badges to win while you play

2 Epic battles

Play Papa Louie 3 for free!

Play Now!
How to play Papa Louie 3: When Sundaes attack!?
Controls
Right/left ARROW key = forward or swim to right/left

Up/down arrow = Swim or jump up (hold for big jump)/swim down (hold down to Crouch)

SPACEBAR = attack