FLAPPY ROYALE

GAME INFO
Flappy Royale ™ is the newest version of the most frustrating game… Flappy Bird Fortnite Battle Royale style!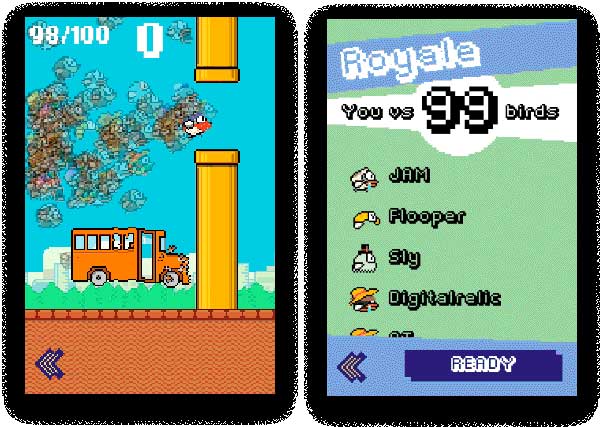 Flappy Royale is one of the games of Battle Royale more unexpected, because it returns with the success of Flappy Bird, but adapting it to the competitive online Fortnite Battle Royale. In this crazy game you will experience frustration again, for how hard it is to advance on every stage, but now with the added difficulty of competing with up to 100 online players!
Choose your character, design the look of your bird and prepare to be launched from a flying bus (Fortnite style), with 100 birds at a time. With two game modes: one free with up to 100 players and one where with a limited number of games there is a classification system with a daily ranking.
Dodge the pipes and obstacles before anyone else, because in this game it's about surviving and being the last one alive. If you hit something, you lose and you have to start the game again. It's frustrating but very funny.
Flappy Royale has been created independently by programmers Orta Therox and Em Lazer-Walker.
Flappy Royale.io Gameplay
IGN is one of the video game media that has already commented on the game on its YouTube channel (with more than 12 million followers). Below you will see your gameplay:
How to download or Play Free Flappy Royale online for PC
Flappy Royale.io it has been released on mobile devices (Android and iOS), but you can play for free on a PC. If you want to play Free Online Flappy Royale continue with these simple steps:
Click on the button "PLAY NOW" button at the top left of this post.
Wait till I upload the link to the official game site.
Click on the image of the game or on the link "click here to play".
Without downloading, follow the game instructions and… let's play!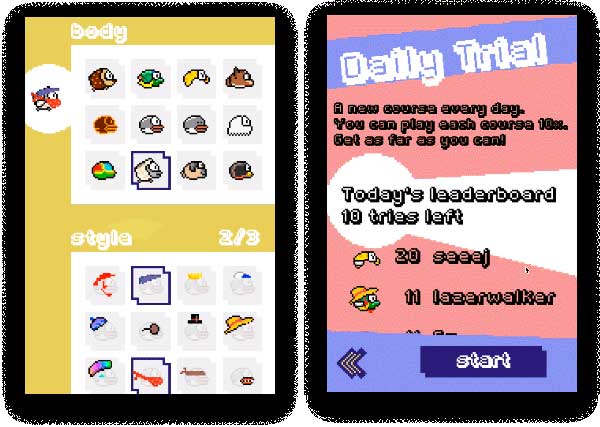 Alternative download Link (web-demo) from here.
Download for Android on the Google Play Store.
Download for iOS in the App Store.
Controls
(Follow the tutorial you will find within the game)
If you liked this game you might be interested in other IO games and action games like: Plants vs Zombies 3, Totally Accurate Battlegrounds, Skribble.io o Donut County.
You can find more information about the game on the official website of its creators (here) or on the official discord.