The Awesome Adventures of CAPTAIN SPIRIT

GAME INFO
The Awesome Adventures of CAPTAIN SPIRIT ™ is the adventure game in which you'll be able to be... the superhero you have always dreamed of!!!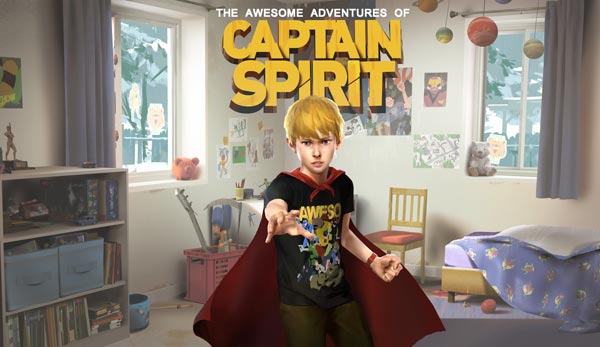 The Awesome Adventures of Captain Spirit is an Adventure game in which you'll be Chris, a child of 10 years with a lot of imagination and his alter ego... a superhero called Captain Spirit. The originality of this game has already attracted the attention of the most influential YouTubers such as Jacksepticeye (with almost 20 million subscribers on your channel, gameplay).
With this title you'll be able to escape from the reality, back to being a child and give free rein to your imagination, with a very surprising narrative history. Your mission will be to go solving different missions playing as the Captain's Spirit to unlock new content. The story and characters are based on the video game Life is Strange and Life is Strange 2.
The Awesome Adventures of Captain Spirit game has been developed by the French studio DONTNOD Entertainment, creators of other successful videogames. You can check out the latest news and updates of the game in your official website.
If you liked this game maybe you are interested in other Adventure Games of our selection, such as: Stray, Secret Neighbor, Beware, Chuchel, Poopdie, VRChat or I Wanna Run The Marathon.
How to download
CAPTAIN SPIRIT ™
Captain Spirit has been released the 25/06/2018 at the popular portal of indie games to Steam, in a version Free to Play (free).
For free download Captain Spirit, follow these simple steps:
Click "PLAY NOW" located in the top left of this post.
Wait for it to load the link to the official page of the game on Steam.
Click "Install the game".
Wait the loading of the official page of the game on Steam. (Previously you must have installed on your pc the application of Steam).
Click "Play".
Follow the download and installation instructions.
Alternative link:
Requirements Captain Spirit (recommended)
OS: Windows 10
Processor: Intel Core i5 3.20 GHz
RAM: 6 GB
Graphics: Nvidia GeForce GTX 970
VRAM: 4 GB
DirectX: v.11
Disk Space: 5 GB available