BATTLEFIELD V (Beta)

GAME INFO
BATTLEFIELD V ™ is the action and multiplayer shooter game, set again in the Second World War

Battlefield V is the 5th installment of the Battlefield saga games. On this occasion, the action focuses back on the Second World War (WWII). Put yourself in the shoes of the various characters and lives of the last great war as never before seen in a game. Each soldier is behind a personal story that has led you to the field of battle. Fight for your life and that of your team on a variety of fronts: from the arid and suffocating north Africa to the icy Norwegian mountains.
This shooting game has multiple possibilities to configure your character, as well as choice of weapons and equipment. You'll be able to enjoy new game modes and multiplayer, as the campaign mode continuous and Grand Operations among others... you Choose the character you choose, the development of the game will not be the same.. good Luck soldier!
Battlefield 5 has been developed by the Swedish studio Dice (website), creators of the well-known saga of action video games. You can find the latest news and updates on the official site of the game.
The famous YouTuber Jacksepticeye (one of the most followed at the world with more than 20 million subscribers on their channel) has made a complete Battlefield V gameplay.
Trailer Battlefield V
Below, you can see the official trailer of the game:
If you liked this game maybe you are interested in other Shooting Games and Action Games of our selection, such as: Dying Light: Bad Blood, Totally Accurate Battlegrounds, Realm Royale Paladins, Radical Heights, Farcry 5, Totally Accurate Battle Simlator (TABS) or The Last Dinosaurs.
How to download Battlefield 5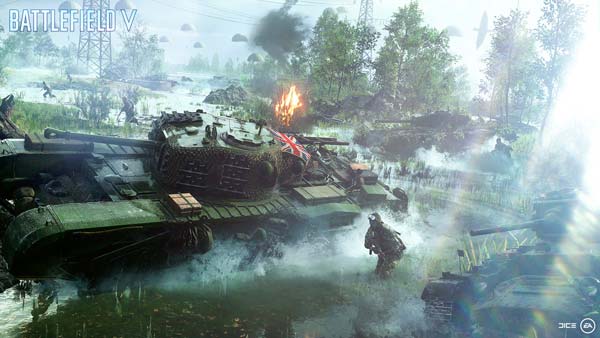 Battlefield V is still in its development phase and plans to launch the game with early access on the 11th of October 2018. The Deluxe version will be launched on the 16th of October following, and the Standard version on the 19th day of October. But if you are lucky you can play completely free to version closed Beta of Battlefield 5... the 28th day of June 2018 at the latest (if you are selected)!
Important note: the closed beta will only be available for Europe and north America (united States, Canada and Mexico)
To download and play for free do click here and follow the instructions, or follow these simple steps:
Click "PLAY NOW" located in the top left of this post.
Wait for it to load the official page of the version closed Beta.
Follow the directions according to the desired platform (PC, XBox, Play Station, ...)
Good Luck!
Requirements Battlefield V (recommended)
OS: Windows 10 (64-bit)
Processor: Intel Core i7 or AMD Ryzen 3
RAM: 12 GB
Graphics: NVidia GeForce GTX 1060 (RAM 3 Gb) or AMD Radeon RX 480 (VRAM 4 Gb)
DirectX: 11.1 version
Disk Space: 50 GB available
Recommendations: have a connection to broadband internet.