PUMMEL PARTY

GAME INFO
PUMMEL PARTY is a multiplayer game with up to 4 players online... with only one winner!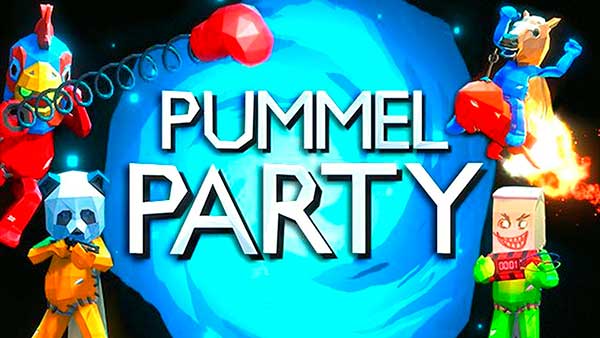 Pummel Party is an addictive action game based in the AI (Artificial Intelligence) in which you will fight with up to four players online and where only able to get one. Have fun using a wide collection of weapons to take down your opponents in all the minigames... what will you make?
Get Ready to laugh with the weapons more absurd that you saw in a game: aubergines lethal remote control, gloves, punches, ... and many more! Just with all of the more ridiculous while you move closer to victory.
This game features multiple game modes, each more fun. the Pummel Party has been created by a team of independent australian developers called Rebuilt Games (see their twitter).
The well known YouTuber H2ODelirious (more than 11 million subscribers and one of the most followed in the English-speaking), has made a funny gameplay of the game. The famous VanossGaming (nearly 24 million followers) also has played and has uploaded his video "Chubb Party Funny Moments - Mario Party, But With Blood and Satan?" and that you can see below:
How to download free Pummel Party
The game has been developed independently and launched in the popular portal video game Steam. If you want to play free Pummel Party (a version made by a fan) continues with these simple steps:
Click "PLAY NOW" located in the top left of this post.
Wait for it to load the official website of the game at Itch.io.
Click "Download Now".
Download the official game (choose version OSX or Windows).
Follow the instructions on the screen and... game on!
(Download alternative here):
Buy on Steam
Controls
(Follow tutorial within the game)
Technical Requirements for play Pummel Party
OS: Windows or Mac
Disk Space: 21 /40 MB free space (OSX / Windows)
If you liked the game, maybe you are interested in other Action Games similar as: Assassin's Creed Odyssey (Project Stream), Dying Light: Bad Blood, Hot Lava, Dauntless, Infectonator 3: Apocalypse, Deep Rock Galactic, Bro Team, Realm Royale Paladins or Cuphead.